Wal-Mart Stores (NYSE: WMT) shrugged off a nasty decline following a string of leaked emails. The stock is back near a strong resistance level, and may be on the verge of a key breakout.
The shares of America's favorite discount retailer – even it's the most vilified retailer – were clobbered two weeks ago after a string of internal emails was made public. Though there wasn't a juicy scandal to speak of, the emails portrayed the business conditions at WMT as dire.
Jerry Murray, vice president of finance and logistics, said in an e-mail to other executives on February 12, "In case you haven't seen a sales report these days, February MTD sales are a total disaster." Mr. Murray went on to say that current monthly figures for February were the worst he'd seen in his 7-year tenure at the company.
Naturally, the stock declined following the email leak. The shares dipped from $72 to $68 during a three-day stretch.
However, WMT reported fourth-quarter financials that beat analysts' estimates only one week later. Though shareholders were bracing for the worst, management reported solid numbers, which sent the shares higher. In fact, WMT has recovered its entire decline following Murray's email.
The quick reversal opens the door for a great trade. Moreover, this trade is backed by sturdy fundamentals that the company reported on February 21.
The shares are up against a challenging resistance area near $72 (blue line). However, the recent recovery from the $68.13 low and the positive numbers management released last week should propel the stock beyond $72.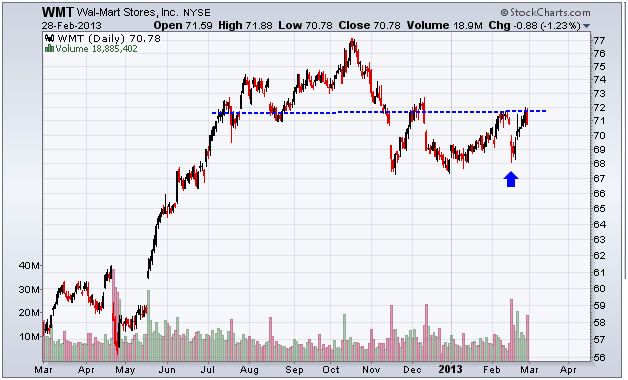 This chart shows the price of WMT shares along with an important resistance area to monitor.
Notice how volume has been substantially higher since February 15. High volume is a sign of investor enthusiasm. Since WMT has generally moved higher on high volume, investors are likely positive about the future direction of the stock. This sentiment should help the shares drive above $72 resistance.
Once $72 is successfully breached, there isn't much stopping the stock from climbing to previous highs between $76 and $77. So I'm expecting a 10% rally over the course of the next few months. There could be more appreciation in store, but we'll have to wait and see how the stock does against $77 resistance first.
The more aggressive trader can take an entry now with a stop below $70. Other traders should wait for a breakout first. Then set a stop below $68.13.
Equities mentioned in this article: WMT
Positions held in companies mentioned above: WMT