Call me old-fashioned. Call me politically incorrect. Heck, call me old and grouchy.
I remember when you had to earn a trophy and not get one just for participating. My buddies and I used to count our trophies and compete to see who had the most. When I was a kid you had to finish in the top three to get an individual trophy and your team had to finish first or second to get a team trophy.
Now kids get trophies just for being on the team, no matter where it places. To me those trophies don't mean nearly as much.
I bring this up because I feel like we're doing the same thing to corporate America when it comes to earnings. A company announces earnings that beat estimates by a penny and the stock goes up. You've seen the headline over and over: "Wells Fargo Beats Estimates, Stock Climbs." What this headline doesn't tell you, of course, is that Wells Fargo (NYSE:WFC) earned $0.73 per share and the consensus estimate had been lowered from $0.73 to $0.72 in the previous weeks.
I'm not out to pick on Wells Fargo per se; it's just one example of many. Bank of America (NYSE:BAC) did the same thing. The company announced earnings of $0.15 that met the consensus estimate. Unfortunately the consensus estimate had been lowered from $0.19 to $0.15 in the 30 days leading up to the report.
Here you go, B of A. Have a trophy.
It's like some kind of bizarre limbo contest in which analysts lower their estimates and dare the company to come in under the bar.
This trend of lowered earnings estimates sent me on a quest to see how many stocks in the Dow had their earnings estimates pared in the past 60 days. I found 14 such companies whose estimates had been lowered by an average of 12.6%.
For comparison purposes, only six Dow companies saw an increase in their earnings estimates. What's more, the average boost to their estimates was a paltry 1.6%.

So not only are there nearly twice as many estimates that are lower, the average drop in these estimates is eight times the average increase. It's trophy time!

Lowered Estimates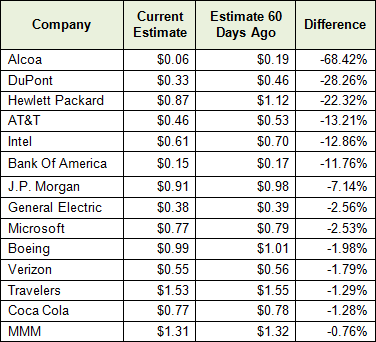 Raised Estimates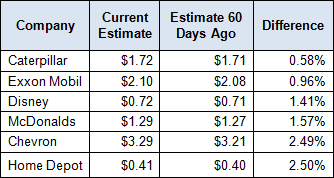 Is this really what we want from American companies? To drop the bar low enough so they can basically trip over it? Does this instill confidence in investors?
Over the past three years, the annual volume on the NYSE has fallen each year. The total number of shares traded in 2011 was the lowest reading since 2006, before the bear market of 2007-2008. Investors were burned by two bear markets in fewer than 10 years and they don't have as much confidence in the stock market as they did six or seven years ago.
This trend of companies beating lowered estimates is not going to bring investor confidence back to where it was before the last bear market. Only when companies beat estimates that have been maintained or, better yet, top raised estimates will investor confidence – and sideline money – return to the market.
Going back to my point about trophies, I've coached youth sports for more than half my life. I've had teams that went undefeated and won championships, and I've had some duds that won only a game or two. As long as the kids improved and learned to play the game the right way, I considered the season a successful one. If the kids didn't improve, I did not consider it a successful season. And that responsibility fell on the coach – me.
One thing I never did, though, was lower the bar. I think it's time we stop lowering expectations for corporate America and measure their success in the same way I did for my teams – true and continued improvement.