A government shutdown looms at 12:01 a.m. tomorrow, and Wall Street isn't handling the uncertainty well.
All three U.S. markets were down today. The Dow fell 128 points. The S&P 500 declined more than half a percent.
An afternoon vote by the Senate to reject a Republican plan to avert the shutdown only if Obamacare was delayed by a full year brought the government shutdown one step closer. It also sent markets sliding another couple ticks.
Investor fear of a shutdown is warranted. Putting an estimated 800,000 federal employees on furlough could cost the U.S. economy as much as $1 billion per week, economists project. Some say a three to four-week shutdown could cost as much as $55 billion.
Projections aside, it's what we don't know about the ramifications of a government shutdown that's causing investors to sweat. There isn't much recent precedent for government shutdowns. The last one occurred in late 1995 and early 1996.
Look at what happened to stocks during that record 21-day shutdown: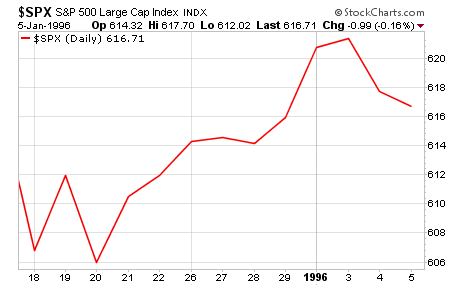 Interesting, huh? After an initial pullback in the first few days after the shutdown began on December 16, stocks rebounded and actually gained 2%.
Perhaps the Christmas holiday helped. Holiday shopping season is usually a boon for investors – apparently even with a large chunk of the work force on furlough.
The comparison between now and 1995-96 isn't an apples to apples one either. Back then, the U.S. unemployment rate was just 5.6% – well below the current 7.3%. Also, GDP growth was closer to 5%, nearly double the current rate of 2.5%.
It's dangerous to compare an event to something that happened almost 18 years ago. But knowing what happened during the last government shutdown at least gives us a point of reference when trying to figure out what to expect next.
We'll know if the two sides can't agree by midnight tonight.