When it comes to natural gas, the United States has a distinct advantage. And this advantage creates a big profit opportunity for a select group of U.S. companies.
Thanks to prevalent drilling and huge gas production from places like the Bakken Shale and Marcellus Shale, the cost of natural gas in the U.S. is downright cheap. In fact, the price has fallen 68% since 2008.
Today, U.S. natural gas is considerably less expensive than anywhere else in the world. Consider that liquefied natural gas (LNG) fetches $15 per million Btu (MMBtu) in Asia and $11.20 in Europe. Yet in the U.S., the same gas costs just $3.60 per MMBtu.
That discrepancy creates a big profit opportunity.
Much money could be made exporting LNG to Europe and Asia. But it's no slam-dunk. That's because liquefying and transporting natural gas is costly.
For example, the cost to liquefy and to ship U.S. natural gas to Japan is expected to average $9 per MMBtu, assuming a U.S. market price of $4.
Should U.S. prices rise, or Europe and Asia prices fall, the U.S. advantage could quickly evaporate. While the U.S. got in on the ground floor of the shale gas boom, companies in Asia and Europe are aggressively drilling.
Similarly, the ability to export LNG is not yet a reality. The first LNG exports aren't scheduled to leave port until 2015.
But today there is a real opportunity to export U.S. gas to Mexico.
Lack of investment in both production and exploration has seriously drained Mexico's natural-gas reserves. In the late 1990s, Mexico had more than 60 trillion cubic feet (tcf) of proven reserves. Today, those reserves have declined by more than 70%.
The dearth of supply, in turn, has led to rising natural gas prices. Mexico's domestic natural gas is four times more expensive than U.S. natural gas.
Thanks to the price advantage, U.S. producers have stepped in to meet the Mexican shortfall. Natural gas exports have jumped over the past decade.
Soaring U.S. Natural Gas Exports to Mexico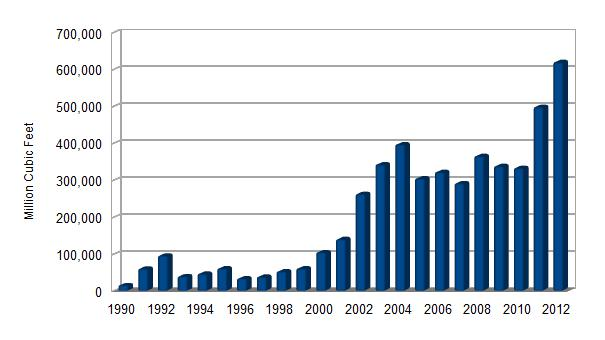 Source: Energy Information Administration
That's because while Mexican supply has dwindled, Mexican demand has surged. And U.S. companies are stepping up to fill the void.
Economic growth is driving Mexico's natural gas demand higher, particularly for generating electricity. To meet growing electricity needs, Mexico plans to add roughly 28 gigawatts of new electricity-generating capacity between 2012 and 2027.
At the same time, Mexico is pushing toward greener energy sources.
The country is actively switching to cleaner-burning natural-gas-fueled electric plants from oil-fueled plants. CFE, Mexico's state-owned utility, estimates that plant expansions and plant conversions could significantly raise Mexico's natural gas needs.
This means Mexico will demand even more natural gas from U.S. producers. The Energy Information Administration (EIA) forecasts U.S. natural gas exports to Mexico to quadruple by 2040.
Unlike natural gas exports to Asia or Europe, sending gas to Mexico doesn't require costly liquefaction and ship transportation. Nearly 100% of the natural gas exported to Mexico is transported via pipeline.
Not surprisingly, the economics of delivering vital natural gas to Mexico favor pipeline companies. In fact, several new pipelines are currently in development to meet this growing demand.
The best income opportunities reside in the pipeline companies that border Mexico. Sixty percent of all U.S. natural gas exported to Mexico arrives directly from pipelines in Texas, with supplies originating mainly from the Eagle Ford shale.
Some of the best pipeline operators in the region offer a healthy distribution yield of 6%. Others offer even more.
Exporting natural gas to Mexico is one of many profit opportunities on the horizon as a result of the U.S. energy boom. The investment team at Wyatt Investment Research views this as one of the biggest growth opportunities of the next decade – and we want to help you profit.
My colleagues – Ian Wyatt and Tyler Laundon – are holding a live investing seminar to discuss the rapidly unfolding developments and profit opportunities. This live tele-conference is called U.S. Energy Alert: 3 Profit Plays for 2014 and Beyond.
What's making the Saudis sweat through their robes
What would make these billionaires nervous? The inescapable fact that we no longer need their oil! A recent Reuters report says, "U.S. surges past Saudis to become world's top oil supplier." And this isn't a one-time spike. This production is expected to ramp up and continue on for years… and we've found the best way to cash in! It's a little-known driller tapping into the largest oil reserve in America – a giant oil field 4 TIMES the size of the Bakken in North Dakota. Click here for all the details of this U.S. oil company crushing the Saudis.