Yesterday I posted why I thought the rally could be ending soon. To follow-up I just wanted to say that I use very few indicators. I am a strong believer in the linear regression of time and price.
You know, mean-reversion, bell curves, simple overbought/oversold indicators. Followed by simple, logical, intellectual and more importantly mathematically sound options strategies for long-term trading success. Emotions are nonexistent. Time and price determine my parameters.
Basically, I apply statistical principles first and foremost. And the options strategies I apply, credit spreads, all have the probability of success far greater than 50%. Combine all of the aforementioned and, well, it is in my opinion, that you have a foundation for long-term trading success.
But I also believe in sentiment, especially on a short-term basis. While I never trade based solely on sentiment, it is certainly a filter or screen that I like to apply.
And now my indicators and sentiment measures are overwhelmingly bearish on a short to intermediate-term basis.
All of the major indices remain in a short-term overbought to very overbought state. Couple that with almost every sentiment measure in a bearish state and yes, I remain bearish for the moment.
I think this chart by highly-acclaimed Sentiment analyst Jason Goepfert of Sentimentrader.com says it all.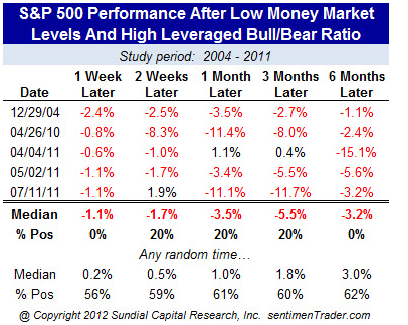 Certainly, food for thought.
Remember, keep it simple, remain patient and allow opportunities to come to you. Once they do, apply statistically proven strategies like credit spreads. Use option theoreticals, like probability of success to make your final decisions. And of course, the final and most important piece, use position-sizing effectively.
Apply all of these principles and you will be well on your way to long-term success. It's not easy, it shouldn't be, but I can tell you that it is worth the effort.
If you have any questions about the intricacies of the strategy or using probabilities of success as a way to trade/invest please feel free to email me at [email protected], and follow me on Twitter at @OptAdvantage.
Andy Crowder
Editor and Chief Options Strategist
Options Advantage and The Strike Price