I've written a lot lately about how slow the IPO market has been. But compared to last year, this is a windfall.
Twenty-six companies went public on U.S. exchanges in the third quarter. That's eight more IPOs than last year's Q3, and the second-highest third-quarter IPO tally in the last five years. Eight companies went public this September, compared to zero last September.
So what's all the fuss about? What has the IPO market done since the disastrous Facebook (NASDAQ: FB) IPO that it doesn't normally do?
Well, for one, there have been two month-long gaps in the IPO market since Facebook's May 18 debut. Those long lapses made it seem as if companies were afraid to go public after the social network's failed initial public offering.
Also, the IPO market has slowed considerably after a red-hot start to the year. Sixty-nine companies went public in the first four and a half months of 2012. There have been only the 26 IPOs since.
Additionally, the summer IPO total – from June through August – was slower than the past two years.
But given how well this year's IPOs have performed, we should expect more of them in the coming months. Take a look at this 10-year chart of IPO returns: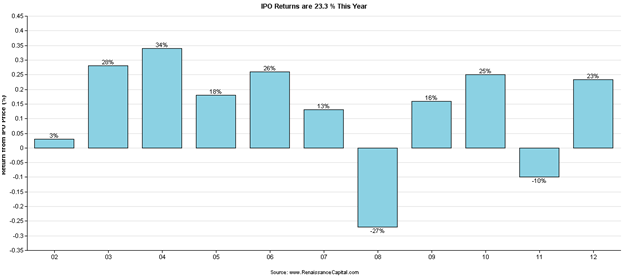 Aside from 2010, so far this has been the best performing year for IPOs since 2006 – even with Facebook's 41% drop-off.
So it's no wonder companies are suddenly coming out of the woodwork to go public. According to the website Renaissance Capital, 16 IPOs are scheduled to price in the coming weeks.
Granted, the always lucrative holiday shopping season likely has something to do with the swelling IPO queue. But those healthy returns probably haven't hurt.
The IPO market is alive and well – even if it hasn't always seemed like it recently.