You've heard me call out big-name investors who are "talking their book" in the past. An investors is "talking his or her book" when he/she states an opinion as fact for the sole purpose of helping a particular trade.
We've seen Warren Buffett do this. Last year, it was widely known that he was massively short the U.S. dollar. And he continued to say he thought the dollar was collapsing, even as it hit important support. Then we learned later that Buffett was covering his dollar short, all the while extolling its weakness.
Obviously, Buffett, in true P.T. Barnum fashion, was attempting to use his influence to talk the dollar down while he covered. He only needed to fool people for a short time as he exited the trade.
Last month at the Davos conference in Switzerland, George Soros did his version of talking his book. He made headlines when he said "The ultimate asset bubble is gold."
I always view statements like these with skepticism. And sure, recent SEC filings reveal that at the same time Soros was saying gold was a bubble, his Soros Fund Management was buying 6.2 million shares of the SPDR Gold Trust ETF (NYSE: GLD) for $663 million.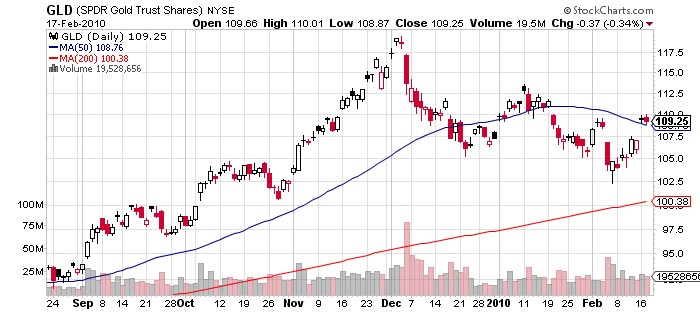 Looking at this 6 month chart of GLD, it's a reasonable guess that Soros was buying between $105 and $110 in December (you may need to zoom in on the chart in order to see all the information). Gold is on the verge of breaking above that range now.
It would be easy to think that Soros was simply pulling a fast one on unsuspecting investors. But this is a case where it pays to know a little more about the man and his methods. Here is a Soros quote from the early '90s:
"Economic history is a never-ending series of episodes based on falsehoods and lies, not truths. It represents the path to big money. The object is to recognize the trend whose premise is false, ride that trend, and step off before it is discredited."
I love that quote, even though it's a bit cynical and perhaps depressing. But what he is saying should be a revelation to any investor, because it requires the investor to maintain a sense of skepticism.
I also want to emphasize that companies do make money, they grow, and their stock prices will reflect this. In other words, there are fundamental reasons for stocks to move. But Soros is talking about making the big money.
As late as 2007, Soros was calling the housing boom a bubble. I also think we can assume he made a lot of money during the housing bubble in the sectors that were supporting the housing bubble, like commodities. And there's no doubt he was well-positioned when the bubble burst.
The Cheapest Gold Stock?
So what do we do with the information that he's now buying gold explicitly because gold is bubble fodder? We assume that he sees the potential for a big move in gold. Gold moves for two reasons: a weak U.S. dollar and inflation fears.
Given the Fed's desire to keep interest rates low, we can imagine that inflation could become an issue. And U.S. dollar weakness is also not outside the realm of possibility.
Soros isn't the only one moving into gold. Hedge fund manager Henry Paulson and even China have been buying gold. It may be a good time to take a position.
SmallCapInvestor PRO members are holding a $3.50 gold mining stock that's so cheap it's like buying gold at $120 an ounce. For more on this stock, click HERE.
20% in Two Days
On Tuesday morning, TradeMaster Daily Stock Alerts' Jason Cimpl told his readers to buy Netlist (Nasdaq: NLST) at $3.58 share. They sold it yesterday at $4.29 for a sweet 20% gain in less than 2 days.
For today, Jason is looking for two things from the stock market:
First, I want to see late day buying. This means that pull-backs are being bought and prices are likely to move higher.

Second (and more important) selling volume has to be low. Heavy volume selling is not a strong signal that the market is preparing to make higher highs, the opposite is then true for selling with low volume. If we do not get a pull-back today, then I'm looking for technology to show leadership on increasing volume – this will show me that this week's rally has legs.
And I'm sure that will mean more trading gains for his readers.