On November 21st Warren Buffett stood next to the President and CEO of one of Japan's great industrial companies and held up a sign saying, "Never give up Fukushima!"
The duo along with the usual paparazzi was celebrating Tungoloy Corporation's new 15,500 square meter carbide tool plant in Iwaki city.
This was a monumental event for two reasons; first because of the obvious emotional boost that real progress after the earthquake has for citizens and businesses in and around Fukushima prefecture.
And second because when the world's greatest value investor visits Japan for the first time in his life investors sit up and take notice.
Is Buffett buying Japan?
Maybe my title was a little forward-looking. But it's not a difficult argument to make. The guy has been breaking out new moves repeatedly in 2011, like his first foray into technology with his purchase of IBM (NYSE: IBM). In an ever changing world where smart investors adapt or die (so to speak), Berkshire Hathaway's (NYSE: BRK-B) CEO appears to be pretty nimble.

A bet on Japanese stocks as the country appears to be recovering is compelling for any value investor.
Especially considering that, at 81 years old, Buffett hasn't seen Japan trade at such a discount to the U.S. since he was 20. Think he's been waiting for 61 years for his buy signal? It wouldn't be that far-fetched.
Bloomberg reports that the Tokyo Stock Exchange's Topix Index recently hit a 61 year low relative to the S&P 500. The ST Ratio, which divides the Topix into the S&P 500, hit 1.73 on November 11th, 2011. That's the highest ST Ratio recorded since January of 1951.

Image Courtesy of Bloomberg
A deeply undervalued country, recovering from a natural disaster, visited by the world's greatest value investor… Yes. It's compelling.
If you're not persuaded yet, consider that analysts expect earnings for Topix-listed stocks to rise by 38 percent over the next year, compared to just 8.9 percent for stocks in the S&P 500 index. So you can add faster growth to the list of reasons Buffet might see value in Japan.
While I haven't heard of any specific buy confirmations from the Buffett slash Berkshire camp, his recent trip has turned a lot of heads to the Land of the Rising Sun.
If mutual fund advisors are convinced that Buffett is on to something, look for Japan focused funds and ETFs to start rising. While counter-arguments can be made that Japan still has too much debt, the global economy is just barely sputtering along and that one man's trip doesn't mean game on in Japan, history suggests that a period of relative outperformance for Japan stocks is in the cards.
If you go shopping in Japan, one of the ways to get the biggest bang for your investment dollar is to buy the WisdomTree Japan SmallCap Fund (NYSE: DFJ).
Typically we see small caps post outsized gains as countries emerge from recessions, or other significant economic events like earthquakes and tsunamis, so this is where I'd put my money.
The DFJ is also compelling for value investors as it targets dividend paying companies like Park 24 Corporation, which operates parking lots, and Lion Corporation, a consumer good company.
The fund has an expense ratio of a reasonable 0.58% and currently yields around 2.25% annually. Volume is also ok – it trades nearly 40,000 shares daily.
There are a lot of other ways you can invest in Japan, but the DFJ gives you great exposure to growth with a relatively simple instrument – and you don't have to deal with the complications involved with buying Japan listed stocks on foreign exchanges or the sometimes shady Pink Sheet listed issues.
The chart looks good too. Support and resistance lines are both trending higher and there is a fairly clear range in between where investors can average into a position. Right now is actually a good time to pick up a few shares. Based on the chart pattern downside short-term risk is around 3 percent (to $40.00) whereas upside potential is about 11.5 percent (to $46.00).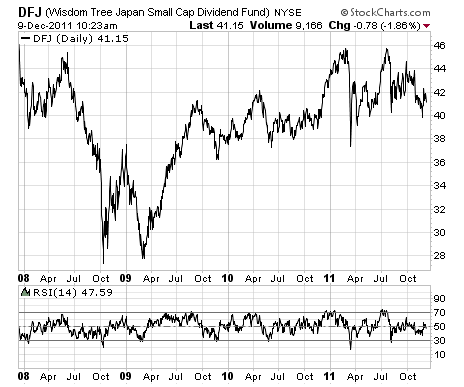 That's a rudimentary analysis that strips out all the macro-factors, but it gives you a starting point to consider if the risk vs. reward set-up is compelling. I think it is.
There is certainly no guarantee that Buffett is going to load up on Japan stocks. Or even if he does, that the country's economy, and the Topic index, is going to climb immediately higher. After all, this isn't the first opinion piece suggesting it's time to buy Japan. And many earlier ones were wrong on their timing – so far.
But when a 20-year old spends the next 61 years of his life amassing a literal fortune, for himself and his shareholders, then hops on a plane to visit Japan and meet with CEOs for the first time, it's pretty easy to justify the reasons to begin nibbling on Japan stocks.
Until next time,
Tyler Laundon, MBA
Lead Research Analyst
Small Cap Investor PRO