On May 23, Royal Gold (NASDAQ: RGLD) announced the acquisition of a royalty on the Ruby Hill gold mine from International Minerals (TSX: IMZ). The Nevada mine is operated by Barrick Gold (NYSE: ABX), another gold miner. Since the news, Royal Gold shares have rallied more than 16%, which puts them only 7% away from a new all-time high.
Royal Gold is my favorite gold miner because it actually doesn't do any mining.
Unlike Barrick, Royal Gold is a gold mining trust. Gold miners are able to outrun gold price appreciation in the short term because they can apply leverage to earnings. But leverage is a double-edged sword. When gold is moving higher, leverage boosts earnings of gold miners. But when gold moves lower, companies that are too levered may have trouble hitting profitability.
Royalty trusts give investors the leverage of miners without the headaches of operational and labor volatility. Instead of actively drilling for new gold, trusts provide either capital, land or both to miners for a fixed share of future mineral production. This is why Royal Gold is my top pick in the gold miner industry.
The shares also look compelling from a technical standpoint. The chart below shows that $83 (blue line) is an area of long-term resistance. However, given the recent momentum in the shares (as well as from gold), a breakout could be near.
Traders, of course, can enter long at any time in anticipation of a burst to $83. For those with a longer-term mentality there is no need to rush into the stock at $78 because it's likely to undergo a consolidation phase before August. Look for support to exist around $74.50, which is an optimal entry for investors who believe Royal Gold is a valuable company to hold.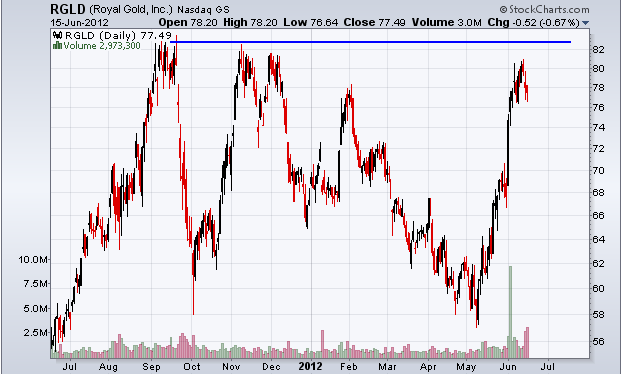 This chart shows the price of Royal Gold shares along with an important resistance area for you to monitor
Equities mentioned in this article: ABX, IMZ, RGLD