Sellers have pummeled stocks these past two months, although the energy sector has taken an excessive beating. After a hot start to 2012, energy stocks fell 15% from a February peak. Meanwhile, the price of crude oil dropped by 25%. However, as I mentioned a few times in May, select energy stocks should rally and the energy industry should stabilize.
The fall in oil prices during May coincided with double-dip recession fears in Europe. When an economy slows, generally the consumption of energy does too. To make matters worse, default fears from Greece, Spain and Italy re-enforced the concerns investors had about a slowing economy.
While troubles in Europe are far from over, the market appears to have priced much of that slowdown in to current valuations. And I am growing more bullish by the day.
In the case of energy stocks, the chart below shows the Energy Select Sector SPDR (NYSE: XLE) is at a strong level of support. Typically, strong support zones, such as the one at $63 (blue line), will not be broken easily. And with the negative news baked into current valuations, the XLE should still be a great buy below $65.50.
In my previous article regarding XLE, $69 was labeled a challenging resistance zone and it remains my near-term target. However, over the longer term (12 months), especially if Europe can get its act together, $76 is a very likely target.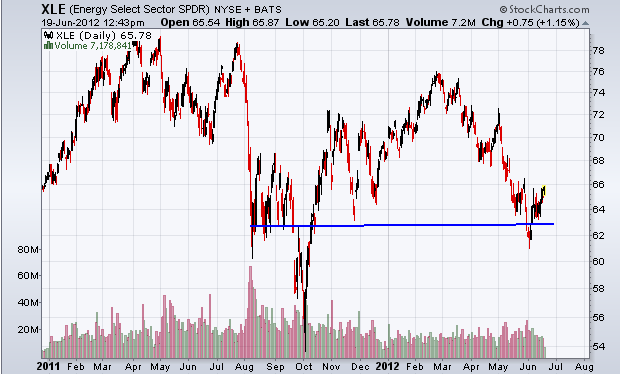 This chart shows the price of Energy Select shares along with an important support area for you to monitor
Equities mentioned in this article: XLE