iShares FTSE China 25 Index Fund (NYSE: FXI) could be ready for a 10% pop.
This ETF tracks the performance of 25 of the largest and most liquid Chinese stocks. Though many investors have shunned Chinese stocks in recent years (and this author believes rightfully so), it would be a mistake to keep up this investment behavior indefinitely.
China claims the world's second-largest GDP, behind only the U.S. Moreover, the country (if you believe the government's figures) hasn't seen a recession in decades. Very often China's GDP grows at a clip greater than 9%, too. In fact, real GDP growth hasn't been below 7% since 1990, when it dipped to 3.8%.
So there is every reason to believe China's economy should continue to hum along at a torrid pace.
Despite the robust economic growth, Chinese stock indices have not performed too well. In fact, most Chinese stocks have traded lower since 2009. That is of course the opposite of what most stocks have done during that period.
Given the promising domestic growth, it's likely that Chinese stocks will rebound in the coming years. Moreover, the FXI has a P/E ratio of nine, which is incredibly low.
So the long-term prospects look good for FXI, but this ETF looks even better in the short term. The shares are fond of forming "boxes" (blue lines), often moving violently when trapped inside.
Also, most big moves – up or down – were followed by box formations. Since the FXI recently made a big move – climbing 20% to $41.97 – it's likely that another box will form.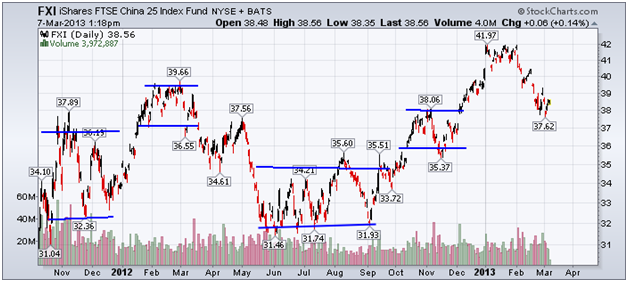 This chart shows the price of FXI shares along with an important developing pattern to monitor.
The low end of this formation should be near $37 – maybe as low as $36. The $41/$42 resistance level is the obvious top of the range. If the 18-month past is any indicator of the near-term future, expect a 10% surge back above $41 soon.
Equities mentioned in this article: FXI
Positions held in companies mentioned above: