There's no doubt about it… Tilray (NASDAQ: TLRY) stock is on FIRE.
The $17 IPO price was downright cheap. And even 11 days ago, you could've picked up shares for a bargain price of $24.
Yesterday, the stock closed at $62. That's a remarkable 156% gain in 11 days!
Some lucky investors could've earned 3X bigger profits – banking 469%!
Click here to discover this secret "pot stock" profit strategy.
Seriously, this chart is a thing of beauty.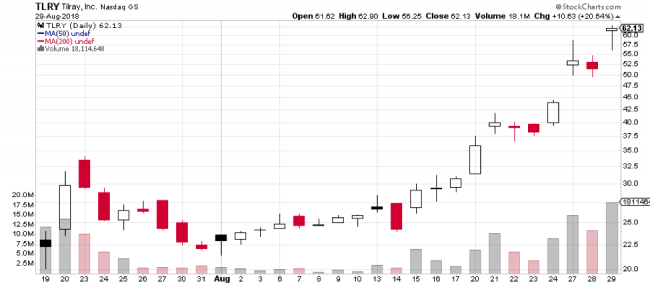 Tilray started to move higher after a bullish research note from Citron Research on Aug. 15.
Here's the crazy thing…
Citron Research – led by Andrew Left – is famous for "short selling" stocks.
Yet here he is – BUYING shares of Tilray!
BTW – you may have read The New York Times feature story on Left – who is connected with some of the best hedge fund managers in the world.
Anyway, it's shocking for a notorious "short seller" to go "LONG"… especially on a richly priced stock like Tilray. Yet his timing was impeccable…
Tilray Jumps on 95% Sales Growth
Tilray just reported extremely strong financial results.
The real highlight was a 95% increase in quarterly revenues – which reached nearly $10 million.
CEO Brendan Kennedy explains that this is just the start. "I think that we're a lot closer to federal legalization in the U.S. than most people realize."
That's why the company is rapidly expanding in the U.S., Canada, Germany, Australia and the United Kingdom. Tilray expects to have 912,000 square feet of cannabis production space by the end of 2018.
In July, Tilray became the first cannabis company to IPO on the NASDAQ. That record transaction raised $163 million to fund the company's growth.
During a company conference call, Kennedy highlighted the opportunity.
"We are witnessing a global paradigm shift in the transformation of a $150 billion illicit market into an increasingly professionalized, legalized, regulated and taxed industry."
Tilray shareholders must be thrilled with the recent stock performance.
Did you miss out on the 156% gains for Tilray? If so, you've got to check this out.
It's a simple way to triple your "pot stock" profits before November 6th.
>>> Click here now for complete access (it's FREE).
Yours in Profits,
Ian Wyatt