Tomorrow's midterm elections could spark a new bull market for pot stocks.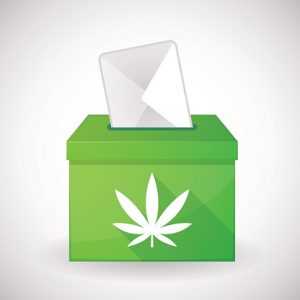 Frankly, the market isn't expecting a "Green Wave."
So, these surprising election results could send stocks surging.
Go here for my Marijuana Midterms Profit Briefing.
That's right, the midterm elections happen TOMORROW. And while most folks are watching the House and Senate races to see which party will control Capitol Hill . . .
I'm watching something entirely different.  That's because these election results could dramatically expand the market for legal cannabis.
Back in 2016, the same thing happened. And one major pot stock jumped 98.3% in 3 weeks!
Click here for my top trades before Nov. 6 at 4 p.m. Eastern Time. That's because it's crucial to enter these trades BEFORE the election results are finalized.
Here are the Elections to Watch
There are several key votes to watch on Tuesday night.
Michigan: It could become the first state in the Midwest to legalize recreational cannabis. It's already the #2 state in the U.S. for medical marijuana – with sales of $711 million. And the recreational market could be $1.5 – $2 billion (click here for details).
Missouri: The state has three different legalization measures on the ballot. All of them are related to medical marijuana.
North Dakota: Recreational cannabis is also on the table here. The Measure 3 could remove cannabis from a list of Schedule 1 substances. This could pave the way for full legalization and retail sales in the coming years.
Ohio: State Issue 1 is a drug reform policy that could decriminalize cannabis. Plus, it would cut prison time for people convicted of a drug offense.
Utah: Voters will decide on Proposition 2 – a ballot measure that could legalize medical cannabis. A recent poll suggests that 77% of Utah voters support the measure.
Wisconsin: There isn't a statewide measure on the ballot. But in 16 counties and two cities, people will cast votes on cannabis reform. These are "advisory referendums" designed to show lawmakers that Wisconsinites support legal cannabis.
Americans largely support legal cannabis. A recent poll found that 93% of Americans support medical marijuana. And 63% of Americans support legalization of recreational cannabis.
As a result, I'm expecting that the majority of these ballot initiatives will succeed. This type of election day surprise could send pot stocks jumping on Wednesday morning.
Click here for my Marijuana Midterms Profit Briefing.
Important Governor Races
The referendums alone could spark a major move. But also important are the governor races in nine states.
Governors hold incredible power when it comes to legalization of cannabis. That's because they're required to sign off on legislation for it to become law. That makes it almost impossible for a state to legalize cannabis if the governor is opposed.
Tomorrow, voters in the following states will select a governor for the next term. And if the right person is elected, it could pave the way for legal cannabis.
So, we'll be closely watching elections in Connecticut, Florida, Illinois, Maine, Michigan, Minnesota, New Mexico, Ohio and Wisconsin.
Leadership from a pro-cannabis governor could quickly expand legalization in these states.
Go here for urgent details – before the election results are counted.
My top stocks could literally jump overnight. Once the election results are in, I'm expecting these stocks to take off.
Don't wait another minute – join me on Tuesday at 12 non Eastern Time (9 a.m.  Pacific).
Yours in Profits,
Ian Wyatt