$4.5 billion.
That's how much an AI unicorn is now valued – which just got funding from Nvidia (NASDAQ: NVDA), Salesforce (NYSE: CRM), and Microsoft (NASDAQ: MSFT).
Could it be the next AI winner?
Go here to discover the secret AI backdoor that could make you 874%.
The name of the company is Hugging Face (named after an emoji)…
And it just got a $235 million capital infusion in a series D funding round.
While still private…
The company's CEO said he's keen on going public when the time comes.
ChatGPT has sparked an AI boom that is truly for the history books…
And while semiconductor companies led generative AI-related equity market price action early, datasets are now gaining traction too.
Hugging Face touts 500,000 language learning models… 250,000 datasets… and 50,000 organizations on the platform.
The New $4.5B AI Unicorn Backed by Microsoft
Click Here to Discover This Secret AI Opportunity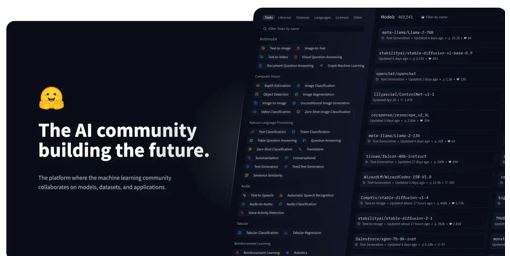 Hugging Face's latest round of funding includes companies that have seen a massive benefit from AI demand…
… which is an extremely significant stamp of approval for the company.
As its CEO said:
"I think we've validated last year that there was massive usage for generative AI. This year, we're validating that there's massive revenue for generative AI — with Nvidia, with the announcement of Hugging Face and others — and hopefully next year, we are going to validate that there's margins for generative AI too. So it's a very exciting kind of maturing cycle for generative AI."
Generative AI is shifting tectonic plates in the tech industry.
And Bill Gates believes it will be as revolutionary as the graphical user interface was in 1980…
… leading to all sorts of similarly massive changes in the coming decades.
But who will be the REAL winners in this new AI boom?
And most importantly, how could YOU profit the most from this technological transformation?
Go here for urgent details – inside the live AI Profit Summit.
According to Bill Gates…
The winner of the AI wars will be either a tech giant or a startup.
And while he wants Microsoft to win, he's also placing big bets on new AI startups.
Meanwhile, he predicts that companies will continue to integrate ChatGPT into their products.
Today we're in the early stages of a future that could look RADICALLY different from the world today.
And that presents a fantastic profit opportunity for you.
That's why I'm hosting an exclusive LIVE webinar called the AI Profit Summit.
In it, you'll discover:
The massive artificial intelligence tsunami caused by Chat GPT – and why it's sending Google and Facebook scrambling.
Why Elon Musk, Jeff Bezos and Bill Gates are betting BILLIONS on this groundbreaking technology.
How AI will create a new $1 trillion market by disrupting millions of jobs.
How to avoid FAKE AI stocks that are scams, frauds and will never hand you a profit.
The top 5 stocks to BUY now. These stocks could reap immense profits and deliver life-changing gains to early investors including YOU.
And most importantly…
An undiscovered AI strategy that could make you a whopping 874% in profits.
Enough to turn $5k into $43,700 in almost no time flat.
Simply go here now for all the details.
Yours in Wealth,
Ian Wyatt