It's official.
Tesla has RECLAIMED the EV lap record on the famous Nürburgring racetrack.
Could this part of Elon Musk's new Master Plan for Tesla?
Go here now for urgent details.
Porsche and Tesla have some sort of rivalry between the Taycan and Model S.
It all started in 2019…
… with Porsche bringing its brand-new Taycan EV to the Nürburgring racetrack to break a record.
And after it did, Elon Musk started testing early Model S Plaid prototypes at the track with some impressive lap times.
But then it got delayed and it didn't launch until two years later.
In 2021 though, the new Model S Plaid made an impressive record on the Nürburgring racetrack: a 7:35.579 lap.
This ignited the fire in the Porsche vs Tesla rivalry…
So Porsche brought the Taycan back in 2022 and BEAT Tesla's time by 2 seconds.
This year, Tesla was expected to beat Porsche after some updates on the Model S Plaid, and sure enough… they did.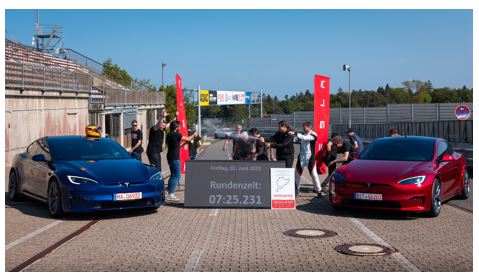 And not by a small margin…
But with an incredible eight-second difference.
Automakers are making every effort they can to beat Tesla at SOMETHING in the EV race.
Yet Elon Musk has been ahead of the curve for almost two decades now.
When most automakers were downplaying the emergence of EVs…
Elon Musk laid out a plan to show how they were not only going to take over the world…
But how Tesla was going to dominate it.
The plan was simply an article published in Tesla's website called "The Secret Tesla Motors Master Plan (just between you and me)" – with its core principle being laid out in four steps:
Build a sports car
Use that money to build an affordable car
Use that money to build an even more affordable car
While doing the above, also provide zero emission electric power generation options
Needless to say…
He managed to do it all with Roadster, Model S and then the Model 3.
Moreover, just $2,500 invested when Master Plan 1 was released would've multiplied to a whopping $602,941.
Then he released the "Tesla Master Plan Part 2," which aimed at:
Creating stunning solar roofs with seamlessly integrated battery shortage
Expanding the electric vehicle product line to address all major segments
Developing a self-driving capability that is 10X safer than manual via massive fleet learning, and…
Enabling your car to make money for you when you aren't using it
He also mentioned "a new kind of pickup"…
Which ended up being the Cybertruck.
Just $2,500 invested when Master Plan 2 was released would be worth $46,650.
And now he started implementing Master Plan 3.0 this year.
But as opposed to Master Plan 1 & 2 where the profit play was to invest in Tesla stock and that's it…
This time, there's a small group of undiscovered stocks that could surge dramatically BECAUSE of Musk's new Master Plan.
And the reason is simple.
Elon Musk revealed that he's leading a $10 TRILLION effort to eliminate fossil fuels and convert the world to sustainable energy.
To do so…
One of the things he aims is producing 20 million EVs per year.
This requires a lot of batteries.
Which is why Tesla is rushing to lock-up critical supplies of batteries – and inking raw-material deals with several little-known stocks.
As always, investors who act BEFORE these deals hit the news are the ones who have the chance of the biggest gains.
I'm talking about the opportunity to make 1,766% – which is enough to turn $5k into $88,300.
The question is…
What's the NEXT stock inking a billion-dollar deal?