Just as gold, copper or coal can be difficult to mine, high-yielding commodities stocks can be tough to find. Aside from oil stocks, which I covered in this space last month, there aren't many commodities stocks that pay more than the 3% yields 10-year Treasury bonds are currently offering.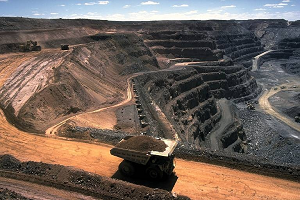 Commodities stocks are not telecommunications or utilities stocks, which boasted average yields of 5.9% and 4.1%, respectively, in 2011. But commodity investing is an important part of any portfolio. Commodities are smart long-term growth plays since many of them appreciate in value over time. And these days some of them pay high enough dividends to also be considered strong income investments.
The only challenge is finding the ones that pay generously. This week I've taken the liberty of doing that for you. Here are three commodities stocks with dividends that currently yield more than 5%:
Rhino Resource Partners (NYSE: RNO)
Market Cap: $515 million
Dividend Yield: 10.7%
Annual Dividends (per share): $1.92
Rhino produces coal and distributes it to electric utility companies and steel producers across the U.S. The company operates 11 coal mines in Kentucky, Ohio, Colorado and West Virginia, producing 4.7 million tons of coal annually. Its 10.7% yield makes Rhino one of the most generous dividend-paying coal miners out there – and has been since the company went public in September 2010. Rhino introduced its dividend about a year ago, starting with a yield of 1.68% and steadily increasing it over the last 12 months.
Rhino's annual dividend of $1.92 is paid in quarterly installments of $0.455 per share. With a stock price of $18.66, Rhino has an attractive price-to-book ratio of 1.75. Rhino is also trading at just 10.7 times forward earnings. There is room for growth, meaning that the extremely high dividend yield could be sustainable.
Companhia Siderurgica Nacional (NYSE: SID)
Market Cap: $14.4 billion
Dividend Yield: 6.2%
Annual Dividends: $0.65
As you can probably tell by the name, Companhia is not a U.S. company. It's a Brazilian steel producer that also mines iron ore and limestone and specializes in cement and energy. Such a diversified portfolio is why Companhia turned a profit of more than $4 billion in 2010 and earned $2.9 billion in the first three quarters of 2011.
Companhia's dividend yield has been up and down, but made a huge leap to more than 6% recently. With a PE ratio of just 7.5, Companhia is also conservatively valued. Most importantly, Companhia is one of the leaders in its field as the sixth-largest iron ore miner in the world.
The fluctuations in Companhia's dividend yield is a bit of a concern. As recently as September, the yield was just 1.9%, so it may not stay above 6% for long. But being a Brazilian company – in an emerging market where the middle class is growing, the central bank has eased its monetary policies, and demand from China for commodity exports from Latin America is burgeoning – Companhia is well positioned for continued growth.

Alliance Resource Partners (Nasdaq: ARLP)
Market Cap: $2.6 billion
Dividend Yield: 5.5%
Annual Dividend: $3.96
The first thing that stands out about Alliance is the whopping $3.96-per-share dividend. It's nothing new. The company has been steadily growing its dividends for years, paying no less than $2 per share since at least 2007.
Alliance has a deep and rich history. It was the first publicly traded master limited partnership in the coal-producing industry. The company mines coal and markets it to major U.S. utilities and industrial users. Its stated objective, according to its website, is to "increase its cash distributions to unitholders."
The Tulsa, Oklahoma-based company owns 697 million tons of coal throughout the eastern U.S., making it the fourth-largest producer of coal in the East. Since 2006, Alliance has grown its revenues by 14.7%.
Alliance has increased its dividend in each of the last nine years, bumping it up 13% in the last five years. With a three-year net income growth rate of 42.6%, it's a good bet that the company's dividend will continue to climb along with its bottom line.