A rare and exciting event occurred in the oil market yesterday…
One of the world's most promising new oil basins – in the East African country of Kenya – clearly holds enough oil to make commercial production possible.
This will be the first ever oil production in the country, with estimates topping 250,000 barrels of oil per day within the next five years.
That means Kenya could increase sub-Saharan African oil output by 8%, and make up for the last three years of decreased supply from Nigeria, according to Reuters.
Two companies are largely responsible for this success: Tullow Oil (OTC: TUWOY) and its partner Africa Oil (OTC: AOIFF). Tullow now estimates that Kenya's oil resource tops 300 million barrels.
That's enough to justify a pipeline tie-in with Tullow's projects in neighboring Uganda, which together could bring at least 500,000 barrels a day to the Kenyan coast.
The relative speed with which commercial quantities of oil have been discovered in Kenya is impressive. Just two years ago Africa Oil and Tullow had a dream and some cash…but no wells had been drilled.
Now that dream has become a reality, both for these companies and for shareholders.
After recommending shares of Africa oil two years ago, I've been closely watching events unfold in Kenya. I recommended Africa Oil to 100% Letter subscribers back in January 2011 when shares sold for $1.85. They have since soared by 320% to trade at $7.82.
While I'm personally sitting on a nice profit in the stock, I have no intention of selling. These are still early days in Kenya as its oil industry is barely in the incubation stage.
Over the last couple of years the companies have drilled five wells in the Lokichar Basin, in the northeast part of the country. Three of these wells hit pay-dirt, and collectively make commercial quantities of oil production possible by surpassing the 250,000 barrels per day threshold.
The latest, the Etuko-1 well, is what tipped the scales toward commercial viability when 90 meters of oil were discovered.
There is little doubt that East Africa is one of the hottest oil-exploration regions of the world, and M&A activity is picking up as companies try to secure rights to the best properties. Tullow and Africa Oil are right in the thick of it, driving the country toward its first ever domestic production which could be just two years away.
This will most likely be achieved by moving the oil by road or rail, given that pipeline infrastructure – which is considerably more complicated – is likely five years away.
That's because Kenya, Ethiopia, Uganda (and let's throw in Somalia too) currently lack the infrastructure to allow for commercial-scale oil production. To make that dream possible there are at least a few more years of cross-border negotiations and development.
A slide from Tullow's investor presentation shows proposed development options for the region (see below image). You can see how a pipeline (or multiple pipelines) could go directly from Lake Albert in Uganda to multiple locations along the coast of Kenya, picking up oil along the way.
The scenario I believe is most likely at the moment is the pipeline to Lamu for export. This is an increasingly likely route given these latest drill results.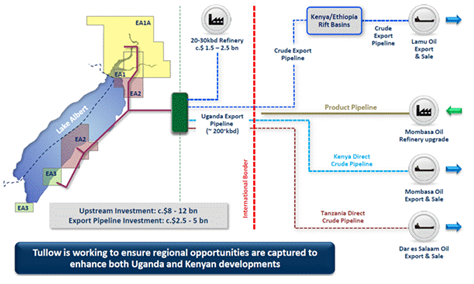 What's more exciting than surpassing commercial thresholds, however, is that these latest discoveries could just be the tip of the iceberg.
There are more than two dozen prospective sedimentary basins in the entire East Africa Region, spreading over Kenya, Uganda, Ethiopia and Somalia. Tullow and Africa Oil have rights to a good portion of this acreage. And the companies have already selected 90 additional drilling prospects.
That's a lot of potential drilling catalysts for investors to keep an eye on. And just one reason why I believe there are still gains to be made investing in the region.
I've recently put together a detailed investment report on the entire region. The report explains all of the details of oil drilling in East Africa, including my investment analysis of the top companies. The most exciting thing you'll discover in my report is details on a new company that's preparing to drill its first well in the region. This stock could be the "next" Africa Oil. You can get all the details by clicking here now.
Good investing,
Tyler Laundon
Newport, Rhode Island