Crude oil prices jumped 1.36% today – a rare up day for a commodity that has lost one-third of its value since early May.
Spot prices for light crude oil closed at $80.44 a barrel, leading energy stocks up along with it. The Energy Select Sector SPDR (NYSEArca: XLE) ETF popped 2.2% today – its biggest upward move in three weeks.
Energy stocks making the biggest moves today included QEP Resources (NYSE: QEP), SandRidge Energy (NYSE: SD) and EV Energy Partners (NYSE: EVEP). All three climbed at least 7%.
From mid-February to early May, crude oil prices steadily remained above $100 a barrel, reaching a high of roughly $108 in late February. But when the global economy began to sputter in May, crude oil prices fell off a cliff.
Recent history tells us that today's bounce-back in oil could signal the beginning of a longer-term rally. As the chart below shows, oil has dipped below $80 three times in the past two years. On each of the previous two occasions, it bottomed in the mid-$70 range before going on a major multi-month run.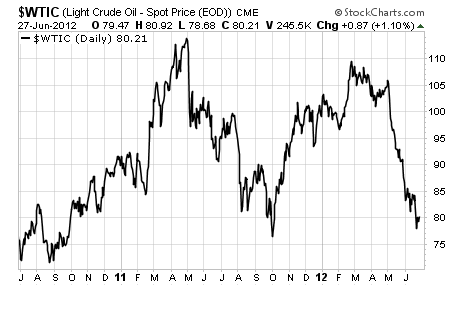 So today's oil rally may be more than just a temporary bump. Commodity investors and SUV drivers alike – you've been warned.