Last week we told you that a full-fledged oil rally was just getting underway. This week we have further proof.
Oil prices have climbed $13 from their late-June lows, topping $92 a barrel today for the first time in two months. This oil rally comes on the heels of a two-month drop in May and June, when West Texas Intermediate Crude prices fell 26% from $110.
A chart of the past three months perfectly demonstrates oil's precipitous fall and recent rise: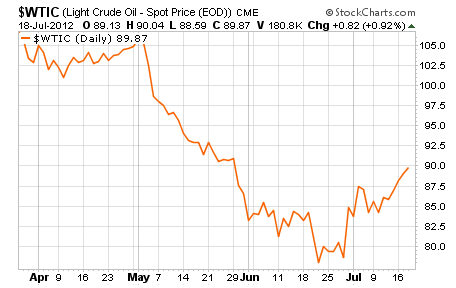 Increased tensions in the Middle East are being blamed for the recent rally. The revolution in Syria has grown increasingly violent, causing concern that the fighting might slow exports from some of Syria's oil-producing neighbors.
But as our own Ian Wyatt noted, the current oil rally seemed inevitable regardless of conditions in the Middle East:
"Since so many economies are dependent on oil and because the price to extract oil from the ground is increasing, oil prices will always be moving higher in the long term," Ian recently wrote.
While the sudden oil rally isn't likely to please U.S. motorists who were just getting used to reasonable gas prices, it's certainly good news for oil companies.
Exxon (NYSE: XOM) shares have climbed 4% since June 28. Rival Chevron (NYSE: CVX) has gained an even 10% since June 25.
As the rally continues, big-oil companies should continue to prosper.