Oil is back in rarefied air.
Spot prices for light crude have topped $105 for just fourth time in the last six years. The first three times it happened, oil didn't stay there for long. Take a look: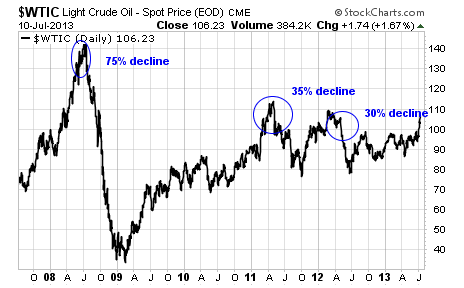 Oil never stays above $105 for long. In 2008, just before the recession hit, oil prices did continue to motor all the way past $140 a barrel – a record. But the subsequent fall was epic, with spot prices dropping more than $100 in three months. The last two times oil topped $105, it didn't make it much higher before falling back below $100 a barrel.
In other words, $100 oil – at least in today's wobbly global economy – is not sustainable. And $105 is even less sustainable. Eventually, sticker shock sets in and businesses and consumers cut back on their oil and gas consumption. As a result, prices have no choice but to correct.
That should happen again this time. To energy investors, oil looks great at $105 a barrel right now. Don't expect it to last much longer, though.