Somebody knows what do about the U.S. dollar rally we've seen lately.
A recent regulatory filing with the SEC on February 16 shows that George Soros' Soros Fund Management has doubled its holdings in the SPDR Gold Trust (NYSE:GLD). Soros is now the 4th biggest investor in GLD. John Paulson's hedge fund, Paulson & Co. owns the most GLD, with 31.5 million shares.
I discussed Soros gold investment in a recent Daily Profit. Soros believes gold is likely to become a "bubble asset." Low interest rates and concerns about the global economic recovery would be the driving catalysts. But as we know, bubbles occur when buying begets buying.
Gold is currently trading around $1,095 an ounce. Price estimates from Goldman Sachs and HSBC call for gold prices to rise to the $1,235 to $1,300 range. But I think Soros' position suggests he thinks it could rise even higher than that.
And that's the thing about bubbles. Once they start, it's hard to say how high prices can run.
Now, as you know, I'm usually a fundamental investor. I like to buy reasonably valued companies that are taking advantage of important economic or consumer related trends. At the same time, I believe gold should be part of any portfolio, especially now.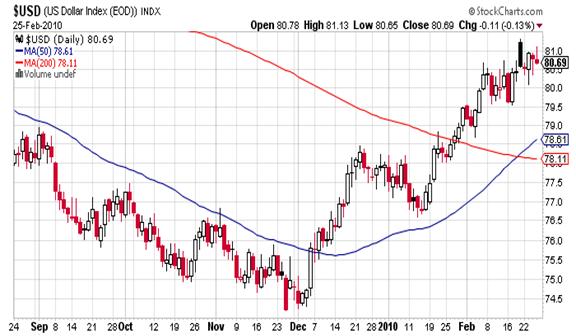 As you can see from this U.S. Dollar Index chart, the dollar has put in an impressive rally. Much of the reason for this has to do with weakness in the euro due to debt problems with Greece. (We can include potential problems with Spain, Ireland and Portugal as well.)
At some point in the not too distant future, the U.S. dollar will weaken. And that's going to send gold, and other commodities higher. Potentially much higher. Gold alone could easily move 20% higher. And that will mean significant price movement for gold mining stocks.
Last week, we saw blowout earnings from Newmont Mining (NYSE:NEM). The company reported $1.14 in per share earnings, when analysts were expecting $0.79 a share. It's clear that analysts are underestimating how much money gold miners are making with gold at its current price. When gold prices move higher, earnings for gold mining companies are going to go through the roof.
I've uncovered a gold mining stock that trades for $3.35 a share that could be one of the cheapest gold mining stocks on the planet. At $3.35 a share, the company's gold is being valued at approximately $250 an ounce. That's quite a discount!
Earnings are expected to be $0.12 a share for fiscal 2010. That gives this company a P/E of 14. But here's the thing – given the current price of gold, and the potential for a significant move higher for gold prices, the earnings estimates for this gold mining stock are ridiculously low.
That $0.12 a share estimate is more likely to be around $0.20 a share. That suggests the stock should move 66% just to be fairly valued. And if a bubble for gold prices starts like Soros and others expect, this stock will do even better. For more on this undervalued gold stock, click HERE.
The next catalyst for the U.S. dollar could come any day. Already, stocks are moving higher in anticipation of a bailout package for Greece. A bailout could come at any time. And that will send the euro higher and the U.S. dollar lower.
I expect gold prices to move quickly once the U.S. dollar starts selling off. Now is the time to add exposure to gold.