'Tis the season to game the November elections. Though only half way through August, many investors have already allocated money to companies that could benefit based on the White House occupant.
More money has been flowing into health insurance companies – Cigna (NYSE: CI), Aetna (NYSE: AET), Wellpoint (NYSE: WLP). I take that to mean more investors are betting on Romney, who will likely push to reverse some of the more damaging aspects of Obamacare (at least that are damaging to healthcare stocks).
Higher-quality, clean alternative energy stocks – Advanced Energy Industries (NASDAQ: AEIS), NRG Energy (NYSE: NRG) – have also seen a cash inflow, possibly as a bet that Obama will win and that the federal government will push even harder for alternative energy.
If Romney wins, health insurers could very well see a more amenable business environment. On the other hand, alternative energy could do well for similar reasons if Obama wins.
Thing is, investors could still lose even if they place their bet on the winning horse, because good companies don't always equate to good investments. In addition, stock prices tend to run up on anticipation. When perception becomes reality, though, investors often sell (this is a different incarnation of the old adage "buy the rumor, sell the news").
At High Yield Wealth, we avoid directional votes on elections. We search for investments that will perform – provide superior income and price-appreciation potential – regardless of whom holds office.
There is one high-yield investment that pays out big dividends no matter which party or president is in power – even though it surprisingly makes all its money from lucrative government contracts!
I'm referring to Student Transportation (NASDAQ: STB), the only school bus transportation company that trades on an American stock exchange.
Getting kids to and from school is big business: School districts spend $24 billion on transportation annually. There are more than 475,000 yellow school buses that transport 24 million students each day, providing nearly 10 billion student trips each year.
Approximately 66% of all school buses are still owned and operated by public school districts.
Whether Republicans or Democrats control local, state, or federal government, the kids still have to get school. More school districts are looking to outside contractors like Student Transportation to get the kids there. It's simply a cheaper alternative.
The Detroit Free Press reports that the recent move of the Detroit school system to contract out transportation will save the district about $50 million over five years. Many other schools from Pennsylvania to California are following Detroit's example.
The trend to privatization is undeniable and Student Transportation has been effectively profiting from the trend. Annual revenue has increased 81% over the past five years to $305.3 million in 2011 from $168.1 million in 2007. That's a 12.7% average annual rate of growth.
Student Transportation Revenue Growth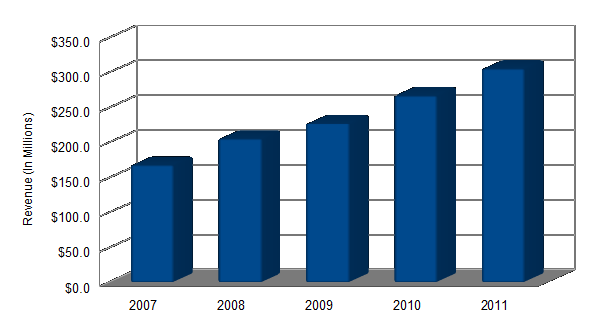 What's more, growth has actually accelerated in recent years. From 2009 through 2011 annual revenue grew at a 15.8% rate.
Student Transportation's revenue should continue to trend positively. For one, the privatization trend is unlikely to slow as school districts attempt to squeeze more from tight budgets. At the same time, the United States continues to produce more kids to fill schools. Over the next eight years, the U.S. Center for Education Statistics estimates an additional two million kids will be attending public schools.
Today, investors are looking at an investment in Student Transportation that pays $0.55 annually in monthly distributions. That produces an 8.1% yield at the market price.
Student Transportation's CEO Denis Gallagher has stated that he's satisfied with the dividend payment and wants to focus on driving investor value. His goal is to see the yield drop in the 5%-range through share-price appreciation – that means 40% price appreciation from current levels.
So don't try to predict who will win in November. Stick with a company that won't see a drop in demand or its market share depending on who's in the White House.