MAG Silver (AMEX: MVG) stock may be heading 30% higher soon.
The shares have fallen below $10 from a $13.42 high in November. ChartWatch readers may recall our previous coverage of this silver stock, along with expectations of a rise to $13 from our June report.
At the time, I was watching the $10 zone (blue line), which had been a strong spot of resistance. The signal to add the stock was on any advance that took the shares higher than $9.85.
QE3 hopes sparked a silver rally in August. In addition to QE3, silver's best kept secret also played a major role in the ascent.
The rise in silver prices paved the way for silver miners – including MVG – to zoom higher. However, silver's climb higher stalled in recent weeks, causing MVG to move lower.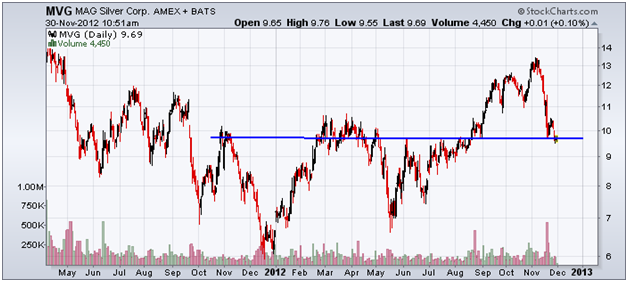 This chart shows the price of MVG shares along with an important support area to monitor.

The shares sank back to $10, which had been a resistance area in the past. Very often stocks will develop support near prior resistance zones. Accordingly, the $10 area should put a stop to the selling pressure in MVG and may provide a bounce to $11.
MVG may receive additional assistance from silver prices, too.
Silver appears ready to renew its ascent, especially since many traders may already be pricing in QE4. I expect silver stocks will rally if silver were to chug higher. Any move that takes silver beyond $38 should be enough to push MVG to $13. Whether or not you're a believer in MVG, I would not be short this stock.
Equities mentioned in this article: MVG, Silver
Positions held in companies mentioned above: none