QUALCOMM (NASDAQ: QCOM) is on the verge of a massive move.
The shares of this telecomm/semiconductor giant trade in a perfect wedge formation. A wedge (blue lines) is a consolidation pattern that occurs when a stock makes a series of lower highs and higher lows. Since it's a consolidation formation, the breakout from the wedge often favors the direction of the former trend. However, the bias is minute.
QCOM had been in a positive trend prior to forming the wedge. So investors should mildly expect the stock to break through overhead resistance near $66 and begin another leg higher.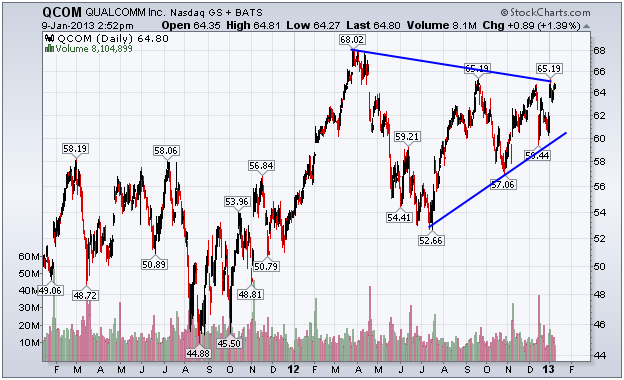 This chart shows the price of QCOM shares along with an important wedge pattern to monitor.
The fundamental story also favors near-term price appreciation. QCOM provides wireless technology to popular devices, including Apple's (NASDAQ: AAPL) iPhone and iPad.
Though the semiconductor industry is highly competitive, QCOM continues to win big contracts. More importantly, its gross margin has stayed above 62% during the past five years. This suggests there is a healthy demand for QCOM products because customers have been reluctant to bargain for lower prices.
These strong margins have resulted in robust EPS growth. In fact, EPS has expanded in each of the past four years, going from $0.96 in 2009 to $3.59 in 2012.
Analysts expect that trend of EPS growth to continue, too. The Street forecasts an EPS of $4.31 in 2013 and $4.78 in 2014. This equates to a P/E ratio of 15 and forward P/E of 13.5.
The average P/E ratio for the communication equipment industry is 14.8, suggesting that QCOM is correctly valued. However, that comparison is slightly misleading.
QCOM has a gross margin of 63% and an operating margin of 30%, while the industry average is 35% and 1%, respectively. Given QCOM's margin supremacy, the shares deserve to carry a higher P/E ratio than the industry.
In addition to the bullish technicals and favorable fundamentals, QCOM yields 1.6%. Moreover, it has zero debt.
QCOM may not overcome its all-time high (set in 2000) of $89.28 this year. However, I expect the shares to surpass $79 within the next six months.
Equities mentioned in this article: QCOM, AAPL
Positions held in companies mentioned above: