Waste Management (NYSE: WM) jumped 2% yesterday as speculation grew it would convert to a REIT (real estate investment trust).
REITs allow investors to own property simply by purchasing a stock. They are designed to generate positive cash flow and can avoid most corporate taxes.
Income craving investors are constantly seeking alternative ways to generate income amid low bond yields. So REITs have become a popular investment class. And REITs aren't focused just in traditional real estate. A REIT can be a timber company or a prison – even a waste management company can file as a REIT.
A company seeking to become a REIT must meet two criteria: it must obtain at least 75% of its revenue from rents and direct real estate activity, and it must pay out at least 90% of its net income to shareholders.
Investors clearly like the idea of Waste Management becoming a REIT. The prospect of REIT conversion helped send WM past a resistance zone at $35 (blue line below) and to new highs on massive volume.
ChartWatch readers may recall my bullish report on WM last July. At the time, I was looking for $32 to provide support for an expected summer rally. In fact, readers of my investment newsletter purchased WM and sold it for a 14% gain (blue arrow below) during the first week of September.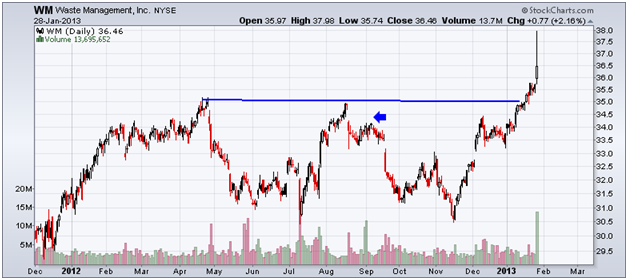 This chart shows the price of WM shares along with a previous resistance level to monitor.
Waste Management remains a great company. And it only stands to get better if it converts to a REIT.
Though I have no position in WM now, I'll consider one, especially if there is truth behind the latest speculation. The shares are trading above a key resistance zone. So long as they stay above $35, I'll be looking for a rally to $39.
Equities mentioned in this article: WM
Positions held in companies mentioned above: