European debt issues are once again weighing on the
stock market. Where have I heard that before? Oh yeah, it was last year
about this time that Dubai
defaulted and Greece's debt problems came to
light. Unfortunately, these debt problems are not one and done.
Ireland has been bailed
out, to the tune of $113 billion. Now, investors are wondering if
Spain might be a
problem, too. The chief economist for the Bank of Spain says the Spanish
banking system is fundamentally sound, but what else would he say?
Investors are speculating that Spanish banks need to
refinance $111 billion in debt. So they are driving the yield higher on
Spanish bonds. Spanish banks have responded by selling a lot less bonds.
Bloomberg reports these banks have sold 300 million euro this month,
compared to 2.37 billion euro in the same period last year.
Maybe Spain
needs help, maybe it doesn't. Investors typically
adopt a "sell first, ask questions later" approach to these
situations.
U.S. banks
aren't overly exposed to Europe. The data is a bit old, but
in June, U.S. banks had $68 billion in Irish debt. Germany and England had $139 billion and $148
billion, respectively. (Don't miss the irony that, even though
Germany is taking the
hardest line on bailouts, it stands to benefit significantly.)
No, the issue for the U.S. is mainly currency related,
with a smattering of slower growth in EU thrown in.
The euro is weakening, and so the U.S. dollar is
getting stronger. That's undermining the benefits that QE2 was supposed
to lavish upon us.
Daily Profit readers may
recall that we discussed what often happens with one-sided trades. When
99% of investors think an asset can only move lower, that asset has a
tendency to rally. We've just seen this happen with the dollar. It was a
virtual consensus that the dollar would get washed out.
Instead it has rallied, as we can see on the USD
chart…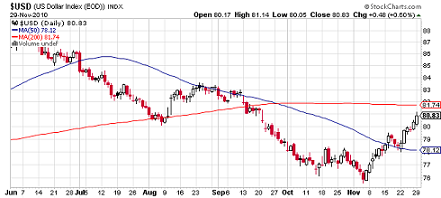 Please note, I have left the 50-day and 200-day
moving averages on the chart for some perspective. We should expect to
see the 200-day moving average, at $81.74, act as resistance for the
dollar's advance.
Despite the headline
problems in Europe, the fundamental story for the U.S. economy has been improving.
Retail sales were strong over the weekend, consumer spending has been
trending higher, new unemployment claims have been steadily dropping, and
manufacturing data has surprised to the upside.
Consumer confidence is rising, both in the surveys,
and more importantly, at the cash register.
So, I'm bullish. What
can I say? I think the European debt problem is something of a
distraction at this point. The EU isn't going to collapse, even though
there remain important issues that must be resolved.
The S&P 500 has been testing support at 1,175
for a couple days now. But I'm going to let my Wyatt Investment
Research colleague, Jason Cimpl, give you the technical
picture. From this morning's pre-market advisory:
"…the bulls once again protected 1175. The
bears cannot take down one established support level. It is almost
pathetic how after a few weeks of selling, the bears can have
accomplished zilch. (other than manufacture fear)
I outlined many reasons yesterday for why the
market should go lower, but at the end of the day people need to sell to
take the market down.
I believe the decline over the past two weeks is
merely a minor pause in a bullish trend and all indices will go higher
again…"
As you probably know, Jason is the trading
strategist for
TradeMaster Daily Stock
Alerts. Jason keeps
his readers on the right side of the market with uncanny
consistency.
Right now, he's got 4 upside positions open, and 3
are showing gains. The one loser, a play on the banks, is down a measly
3%.
(Incidentally, you can give

TradeMaster Daily Stock Alerts a
trial run for 30 days, details
HERE.)
If there's a rally brewing, and I agree with Jason
that there is, the banks should lead in the early stages. And so will
retail. I've been banging the drum for retail since November 8, and sales
are surprising to the upside.

Please feel free to
write me with your questions and comments. I'll probably print them in
Daily Profit: [email protected]