With oil hitting a six-month high of $117 and a military strike on Syria looming, the U.S. energy independence chant is gaining in popularity.
Syrian oil isn't the issue. In fact, the country ranks among the smallest oil producing nations in the world, according to the International Energy Agency (IEA). And U.S. oil imports from Syria are essentially nil.
But oil imports from the surrounding regions of the Persian Gulf and sub-Sahara Africa are significant. And any military action in Syria will be accompanied with unknown retaliatory effects. Don't be surprised if these unknowns cause oil to spike above $125 a barrel if there is any military action in the coming days.
Richard Hastings, a macro strategist at Global Hunter Securities, sums it up well by saying,
When we see WTI prices escalate like this, it typically signals more worry about supply disruptions coming out of the Arabian Sea and other channels such as the Strait of Hormuz and the Suez Canal… When you go in and start messing around with something like Syria…it will intensify sectarian fractures inside Syria and other countries.
Now, I don't want to kill the dream of U.S. energy independence. But the fact is it won't become a reality overnight.
That's not necessarily bad news however. While the U.S. can't "go it alone", we have two close neighbors in Canada and Mexico that are also enjoying energy booms. In 2012 the U.S. imported 28% of its oil from Canada, and another 11% from Mexico.
So while the U.S. isn't likely to achieve energy independence soon, it's entirely possible that the North American continent can achieve energy independence within the next decade.
That's a good thing for the entire region, since cross-border trade with these partners is essentially care-free when compared to trade with much of the Middle East.
As the following chart shows, the U.S. ramp in oil and gas production is forecast to get the continent nearly 75% of the way to energy independence by 2022. Adding Canada's production bumps that figure up closer to 90%, and Mexican production tops it off.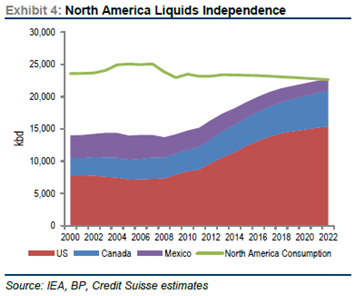 The key to achieving this goal is safe and effective use of natural gas. While newly discovered oil will play a major role – U.S. oil production jumped by 14% in 2012 – natural gas represents the biggest opportunity for North America to go it alone. That's because, relatively speaking, shale gas wells are typically more productive than shale oil wells.
Due to technological advances in fracking and horizontal drilling, production of natural gas in the U.S. has increased by 33% since 2005. And it's only going to increase from here. In fact, the U.S. is likely to grow natural gas production at such a rampant rate – by 44% between 2011 and 2040 – that the (EIA) even predicts that the U.S. will be a net exporter of natural gas by 2020.
All of this gas has been trapped in little pockets within shale rock, just sitting there with no way out. Drilling rigs that penetrated the rock vertically couldn't make the gas budge. But those that can go down then turn horizontally, and even branch out, are much more effective. Add fracking fluids and proppants and voila, you have the current shale gas boom.
That's good news since the boom in North America's energy production is reducing U.S. reliance on foreign crude oil. Hopefully that will mean fewer energy-related conflicts throughout the rest of the world in the coming years.
While that won't necessarily end humanitarian conflicts like the current one in Syria, North American energy independence is still a dream worth pursuing.
Editor's Note: I'm currently working on an in-depth report that highlights the best opportunities to play the U.S. shale oil and gas boom. In the coming weeks, I'll let you know exactly how you can get your hands on this report.