I don't know if anything you've read or heard about the current American energy boom is even half-way accurate.
I'm certain you've heard of the "American Energy Renaissance" – or seen headlines about new oil discoveries in places like the Bakken and Marcellus shale formations.
For most of the past decade, it's been tough to ignore the hype, hysteria and misleading information out there.
But the truth about soaring oil and gas production hasn't been explained or investigated in very much depth by most of the mainstream press and media.
To put things into perspective, let's look at just one major oil and gas resource that's being developed right now.
The Permian Basin is a geological formation that covers 250 to 300 miles of west Texas and Eastern New Mexico and comprises 7,000 oil fields across 59 counties.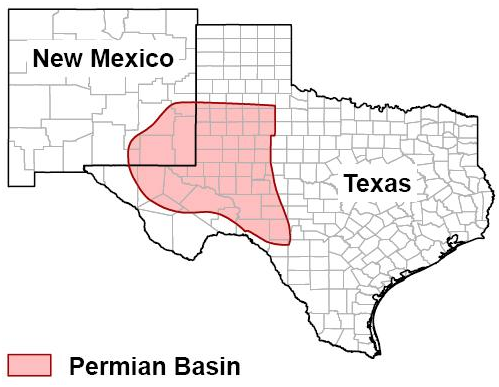 The area has been producing oil since 1921. But ten years ago, the area was left for dead. The wells weren't pumping, and companies operating in the area shut things down and capped their well heads.
Of course, that was before new drilling techniques. Fracking changed the Permian, and has resulted in a renaissance of drilling activity in the basin. Today there are over 400 drilling rigs drilling for oil and gas in the Permian Basin.
And in just three years, oil production in the Permian has doubled to the highest levels seen in the 1980s.
Now "the Basin" accounts for 57 percent of all Texas oil and 25% of all U.S. production.
The Permian Basin once again is one of the centers of U.S. oil production, along with the Eagle Ford shale formation in south Texas and the Bakken/Three Forks shale formation in North Dakota.
So, what does all this mean for investors?
Start by considering the potential magnitude of the Permian Basin oil and gas discoveries. In fact, Pioneer Natural Resources (NYSE: PXD) CEO Scott Sheffield recently stated that the Permian was "the second-largest oil discovery in the history of the world." Saudi Arabia's Ghawar field is the largest.
Just to give you some perspective the Eagle Ford has a thickness of 25 to 30 feet and the Bakken is 10 to 25 feet thick, the Permian Basin which encompasses the Cline Shale, is estimated to be 200 to 550 feet in thickness!
Investors looking for the most rewarding oil and gas opportunity should look no further than the Permian Basin.  The economics of this region make it far more profitable than other areas like the Bakken or Eagle Ford.
Indeed, the Permian is red hot right now.
Don't believe me, just look at the returns of oil and gas companies operating in the Permian Basin. A portfolio of Permian pure plays would have you up 40% year-to-date. By comparison, over the same time frame, the SPDR S&P Oil & Gas Exploration & Production ETF (NYSE: XOP) increased only 15%.
The good news is that this story is so misunderstood, underestimated and largely ignored by the investment public that it's still in the earliest stages in terms of investment attention.
We're extremely excited about the opportunities in the Permian Basin. And I'd like to invite you to attend this event that's hosted by my colleagues Ian Wyatt and Tyler Laundon.
The event – U.S. Energy Alert: 3 Profit Plays for 2014 and Beyond – takes place this Thursday at 2 p.m. Eastern Time.  The live investing seminar takes place over the phone, and it's absolutely free. For your convenience, we'll even call you.
If you want to hear more about big profit opportunities in the high growth U.S. energy sector, you'll want to tune in. Ian and Tyler will be sharing details on two of my top investment recommendations. Plus, they'll have lots of time for a live Q&A session.
The event is in just two days – and we're filling up quickly. All you need to do is click here now to reserve your seat.
I highly recommend that you attend this live investing seminar. Be sure to be at your phone at 2 p.m. eastern on Thursday – we'll be calling you directly if you choose to attend.