Silver rocketed 3.2% higher last Wednesday, which had many precious metal investors saying to themselves, "It's about time." The pop was a welcome move for a metal that is down around 20% in three months.
Despite the heavy decline this spring, silver is still up for the year. Additionally, silver continues to find support at $27.50, an important level for it to keep.
If silver can stay above $27.50, it will likely rally another 35% (from where it is) to $40.
Let me explain…
The chart below reveals a strong support zone for silver at $27.50 (dashed blue line), which has stood firm since November 2010.
Back in 2010, QE2 (a controversial monetary easing strategy) was announced. Experts debated the strategy because many economists believe easing would lead to inflation that could spiral out of control down the road. Precious metals such as gold and silver (inflation hedges) naturally rallied after the announcement because traders began to price in inflation.
Eventually, those hyperinflation concerns drove silver to $49.82 in April 2011. However, only one year after its April 2011 crest, silver dropped back below $30. This retreat has many precious metal bugs salivating, thinking of unique ways to buy silver.
I'm not here to convince them otherwise. The chart of silver looks ready to soar higher to the first resistance (middle blue line) area near $35. However, a recent U.S. employment report could spur a larger rally for precious metals, including silver.
On Friday June 1, the U.S. unemployment rate jolted back to 8.2% after only 69,000 jobs were added last month. The bad economic news roiled the stock market, but precious metals ripped higher.
The increase in gold and silver was a sign that traders are preparing for Ben Bernanke and the Fed to announce QE3 during their next meeting. Because the Fed has a duel mandate of balancing employment and output, many believe the Fed will expand their QE program once again this year.
The Fed holds the key to silver's future. The buying pressure near $27.50 support is likely strong enough to bring the metal back to $35 this year. Silver would likely ramp all the way back to $40 (upper blue line) should inflation concerns (assisted by the Fed) grip the market.
Silver miners such as MAG Silver (NYSEAMEX: MVG) are a great way to trade this trend – Coeur d'Alene (NYSE: CDE) is another fan favorite in the silver mining industry. Investors that want to obtain silver exposure but with a little less risk may want to explore iShares Silver Trust (NYSE: SLV). The Trust is an ETF intended to mirror the price of silver in the futures exchange. Both offer investors a great chance to profit from the future price advance of silver.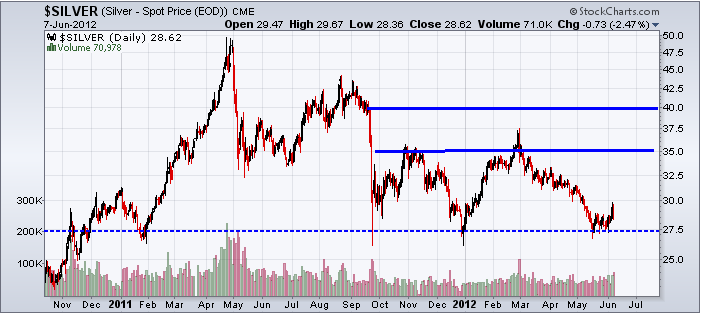 This chart shows the spot price of silver along with important support and resistance areas for you to monitor
Equities mentioned in this article: MVG, SLV, CDE