Barrick Gold (NYSE: ABX) is a cheap stock by all conventional wisdom. Yet the shares of this gold miner cannot seem to find any footing.
Over the past two years gold moved from around $1,250 to as high as $1,895 per ounce. Curiously, the shares of ABX – a gold miner that presumably benefits from higher gold bullion prices – moved lower.
What's even more amazing about the stock is that it pays a dividend of 1.9% and is highly undervalued. The shares trade at roughly 8 times 2012 EPS, which is 40% below the industry average of 13 and 50% below the market's long-term average of near 15.5.
And to make matters worse, ABX shares lost a support zone that had been in place since April 2010. In the chart below, the blue line depicts Barrick Gold's $43 support area.
Long-term support zones are rarely broken without due cause. However, in the case of ABX, I struggle to find what could have possibly been to blame.
The shares found support at $35 (blue arrow), from where they bounced higher in May. However, the stock needs to rise back above $43 quickly. A failure to do so within the next month indicates that ABX is coming back down to $35 again, then perhaps lower.
Despite the technical breakdown, Barrick Gold is a cheap stock in a secularly bullish industry. I am bullish on the stock and believe it will have a good second half of the year.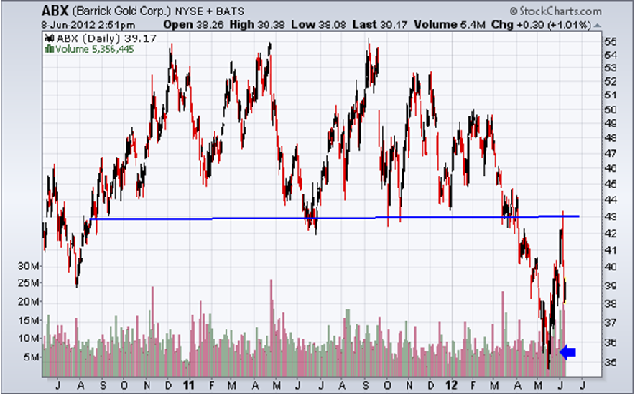 This chart shows the price of Barrick Gold shares along with an important resistance area for you to monitor
Equities mentioned in this article: ABX, gold