Silver is poised to move higher until May.
As odd as it may seem, silver demand has little to do with this expected rise. A bigger force influences silver and it should drive silver higher for the next several months.
May is not an arbitrary month, either. Statistics verify this is when the rally should end. More importantly, this rally has already begun.
Don't worry… you didn't miss it. But you may need to act very soon.
Though silver is up nearly 10% this month, an unseen force can take the metal higher over the next several months – to a price above $40.
Many investors will recognize this secret force once it's revealed. In fact, many have looked at the popular chart I discuss below, although very few use it to time silver.
However, that's a big mistake. Because this chart signals which direction silver prices are going… with an astonishing 92% accuracy.
Not only does this chart point to a silver rally to May, it also shows that investors should have another great entry point in October. But that may be the last chance to buy silver ahead of a big rally.
What exactly does this chart show that makes it such a great predictor of silver?
Gold.
According to statisticians from Zeal Research, 92% of silver's change in price is because of the change in gold prices.
Though silver and gold trade independently, gold's price movement heavily influences silver prices. And gold entered its strongest time of the year. Gold's would-be rise signals a major silver rally will also be underway.
Officially, the gold stampede began with the start of the Asian harvest in August. These farmers groom the fields all year, but it's not until harvesting time that they know the true fruits of their labor.
Only at harvest time do farmers begin to understand their profits for the year. And only then can they invest their bounty accordingly. For Asian farmers this often means plowing extra capital into gold bullion for investment purposes, pushing the yellow metal higher.
Next on the calendar is India's famous festival season. India is the world's biggest gold consumer, and 40% of India's entire annual gold demand occurs during this autumn wedding season. Greeks are popularized for having elaborate weddings, but it's Indian weddings that take the cake. Not only are Indian weddings lavish, the guests make large gifts of gold and gold jewelry to the newlyweds, sparing no expense.
Finally it's nearing the holiday season in North America, when there is a mammoth surge of jewelry demand for loved ones. In fact, many U.S. jewelers and retailers do as much as half their annual business between Thanksgiving and Christmas.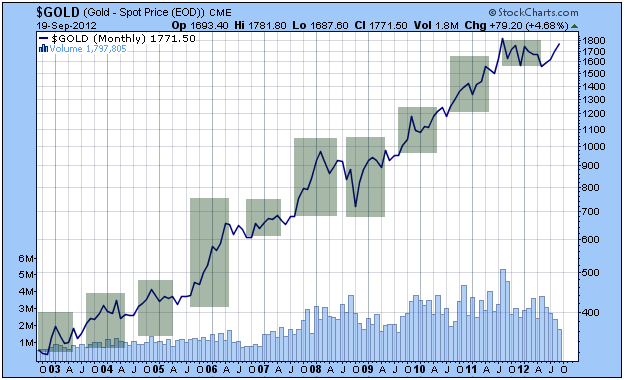 Shaded areas represents gold's "best season" from August to May.
So as you can see in the chart above, history tells us that gold prices are poised to rise… roughly until May.
And what's good for gold is much better for silver.
In November 2001, silver traded for around $4 per ounce (gold was priced near $275). Since then, silver exploded 1,105% higher to its highest level compared to gold's 650% surge at its peak. Though gold investors made an impressive return, the real cash went to silver owners.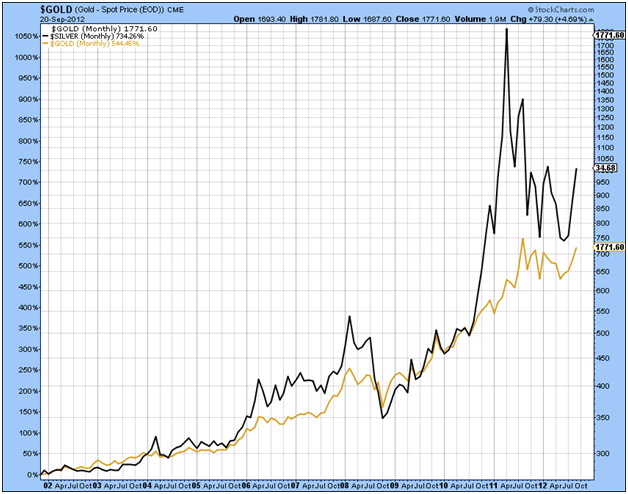 The advance of silver (black) and gold (gold) is more than 90 percent correlated. Note the relative outperformance of silver.
Though silver is mined year-round at a consistent rate, it exhibits cyclical price changes. That's because silver's price action is largely determined by how gold is moving.
When gold is thriving, investors and speculators dump large sums of money into silver. This makes silver outperform gold in the good times, while underperforming gold in the bad.
Historical data suggests that gold prices will move higher over the next eight months. If so, gold's rise may be dazzling.
But silver's ascent should be meteoric.