I don't like writing about coal even in the best of circumstances, because I know you're probably more interested in hearing about gold or oil – the exciting commodities that offer the potential to quickly return massive profits to you.
And right now, with coal companies floundering, it might be the least exciting "newsy" story to tell.
But I also firmly believe that an investment in this space could safely return 100%-200% gains in the next few years. My job is to present these types of opportunities to you as they arise.
And today, the largest coal companies are selling for the cheapest prices we've seen since the depths of the financial crisis of 2008-2009. Contrary to how the risk-reward centers of the human brain tell you and me to invest, it's wise to buy things when their price has fallen. So I hope you'll ignore the negative emotional response you have to this article, and consider doing your own research to find a compelling opportunity in coal, today.
Because we know that despite what the stock market tells us, coal is still one of the major energy commodities. There's no disputing it.
The world's consumers depend on oil to transport goods to their doorstep. But before those goods get packed onto shipping containers and tractor trailers, they're manufactured using, predominately, the energy created by coal.
And then, after the goods show up on your doorstep, they're again processed, used, plugged in or otherwise consumed with the help of coal – as the average home in this country gets about 50% of its electricity from coal.
Knowing these facts, don't you want to buy coal companies when they're on sale?
Today, the largest American coal company, Peabody Energy Corp. (NYSE: BTU), sells for about the same price that it sold for during March of 2009.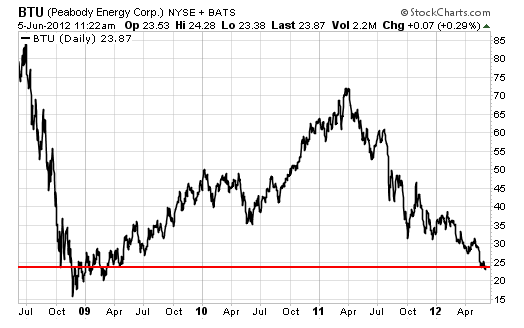 And it's just as cheap on an earnings basis – selling for just 6 times trailing earnings. Additionally, Peabody pays a dividend of around 1.5%, which is about the same as a 10-Year U.S. Treasury note.
Peabody is on sale. Negative sentiment and cheap alternatives like natural gas have most coal investors heading for the exits.
But if you want to give yourself an ownership stake in one of the most important energy commodities in the world – your chance has arrived.