President Joe Biden announced…
his administration is cracking down on concert ticket junk fees.
People struggle to cover the basic costs of living, so let's target concert ticket fees.
Brilliant.
Click here to discover 37 passive income strategies to help you cover your basic costs while crushing inflation at the same time.
This past Sunday…
Biden doubled down on combating "junk fees" with this tweet: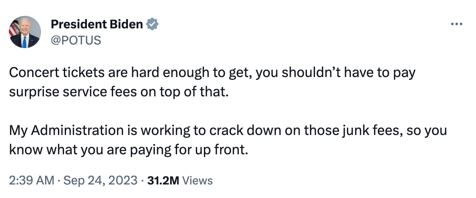 As you might expect, Biden received a torrent of replies mocking his administration's priorities.
"Wow, focusing on the real issues," one Twitter user replied.
"Thank you. These are the issues Americans really care about" – another sarcastically noted.
"People can't afford groceries. How are they going to afford concert tickets?" another reasoned.
And it's true.
Many families struggle to make ends meet.
Inflation is waging war on the American consumer. More of them find it difficult to cover the rising costs of the necessities – housing, gas, food, and health care.
Biden's response?
Reduce concert ticket fees and ensure oil and gas prices remain higher for longer by canceling drilling leases in the Alaskan Arctic.
Brilliance squared.
So the struggle to pay the bills marches on.
But relief is on the way.
We have income strategies that could help you realize an additional $5k in monthly income.
Click here to receive 37 of these income strategies free.
Plus, receive access to the income strategies in the Income for Life Blueprint.
Supercharged Payouts is one strategy.
Supercharged Payouts can generate income yields as high as 45% in one day.
A 45% immediate yield can deliver a $4,501 one-time payment.
Discover how in the Income for Life Blueprint.
Supercharged Payouts can generate yields 5X… 10X… and even 20X the yield of regular quarterly dividends.
These Supercharged Payouts are frequently related to an unanticipated event.
A strong earnings report…
A business reorganization…
A change in business fortunes…
A large legal settlement…
A change in tax law.
They are frequently related to a push for efficiency by removing excess cash from the balance sheet.
An excess of any asset – including cash – is wasteful and inefficient.
Supercharged Payouts remove excess cash and return it to its rightful owners – the shareholders.
The corporation wins by increasing efficiency and generating higher returns on invested capital.
The investor wins with a cash infusion.
To discover how to collect Supercharged Payouts…
And how the Income for Life Blueprint strategies, along with our other 37 income strategies, can help you generate an extra $5k per month …
Good Fortunes,
Steve Mauzy