There's a new dividend king in town…
This UNKNOWN stock has been raising its dividend for 62 years. Yet you've probably never heard of this stock – even though you use their products every week.
The company is called Kenvue (NYSE: KVUE).
And it attainted this Dividend King status after being spun out of Johnson & Johnson (NYSE: JNJ).
Go here to get details on my #1 income trade for 2023.
Kenvue is a health company that owns brands including Tylenol, Band-Aid, Listerine and Neutrogena.
Johnson & Johnson spun off Kenvue. That means existing JNJ shareholders had an option to exchange their shares for KVUE shares.
The stock is considered a Dividend Aristocrat – or a Dividend King. That's a company that raises its dividend annually for at least 25 consecutive years.
Kenvue is a newly public stock trading on the NYSE.
However, there's a loophole.
Stocks that are spun off from a publicly traded Dividend Aristocrat maintain that status – as long as both companies continue raising their dividends for two years.
That's according to two popular Dividend Aristocrat ETFs from ProShares and CBOE.
JNJ has raised its dividend for 62 consecutive years.
You can see here that the JNJ dividend has increase nearly 10-times since the late 1990s.
Dividend King Raises Payouts 10-Times
Go Here for My Top 3 Income Trades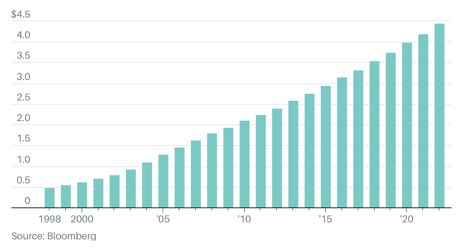 Buy or Sell Kenvue Stock
Kenvue is a newly public stock.
Shares started trading in May at around $25. And the stock has drifted lower to $21 today.
Newly public spin offs typically see their shares fall immediately after going public. That's because many shareholders prefer to hold the better known "legacy stock." And so, they'll simply sell shares of the newly public company.
This means the selloff isn't necessarily due to performance of business. It can simply be indiscriminate selling in the stock.
My best guess is that this is what's happening here.
Kenvue shares now trade at 16-times earnings. That's a discount from the S&P 500 which trades at around 20-times earnings. And it's also well below competitor Procter & Gamble (NYSE: PG) – trading at 22-times.
The stock also offers an attractive 3.6% yield – more than double the average S&P 500 stock.
Here's the bottom line:
Kenvue sold off after it's spin off. This is a quality stock trading at a cheap valuation. The dividend yield is superior to the overall market. Investors can expect the dividend to increase for at least the next two years.
My inclination would be to buy shares around $20.
You'll collect 3.6% dividends. Those dividends will likely increase by 5% per year. Plus, the share price could get a boost as investors become more familiar with this new stock.
Want more ideas for quickly boosting your income?
Simply access my Income for Life Blueprint.
You'll discover…
How to earn 22.3% income from real estate – WITHOUT buying a single property.
How you could collect $18,235 in Supercharged Payouts in the next 12-months
The little-known 6.9% CPI savings account.
The secret to earning 32%… 57%… and even 88% profits with Shadow Funds.
Simply click here for instant access (it's free).
Yours in Wealth,
Ian Wyatt