We've officially entered the Golden Age of small cap dividend investing.
While stocks in general are in a powerful uptrend, it's small cap stocks that are really outperforming. If you want to generate more income from stocks today – and in the years to come – small cap dividend stocks must be part of the equation.
After all, an astounding 49% of stocks in the S&P 600 Small Cap Index now pay dividends. That's more than any time since the early 1990's, when the index began tracking this data.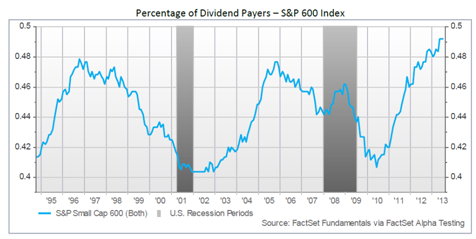 Nearly every investor wants both growth and income. Right now, more small cap stocks than any time in history deliver that dream combination. This should be an extremely enticing reason to consider small cap stocks, especially considering their long-term outperformance.
The number of companies in the S&P 600 Small Cap Index that are initiating dividends has also been rising quickly. In the four years since the financial crisis, the monthly average of companies initiating dividends has doubled from what it was in the mid 1990s.
As the chart above shows, the numbers add up quickly.
The Value of Dividend Investing
I've been pounding the table and encouraging my readers to buy small cap dividend stocks and embrace dividend investing. Not tomorrow and not next year; but right now.
Why? Because doing so is likely to boost overall portfolio returns, while generating steady income.
The fact is that small caps are the best performing type of stocks over the long haul. They outperformed before the financial crisis, and they've outperformed since the financial crisis.
All of the data shows this trend to be true. It's not some flawed theory that lacks proof. And you don't have to be young to reap the profits. Even older investors can reap the benefits by maintaining constant exposure to this asset class.
The S&P 600 Small Cap Index won't always have so many stocks paying dividends. Over time, as the index is reconstituted, many stocks will grow too big and become part of the larger S&P 400 Mid-Cap Index. That's a good thing since it means these stocks have handed investors steady capital gains, in addition to income.
But they'll be replaced by a new crop of small companies that will become the next generation of dividend initiators. And the cycle will repeat itself.
I firmly believe one of the best investments you can make is to buy these smaller companies while they are still relatively unknown. Get them when the price is low, and when the dividend has plenty of room to grow.