During yesterday's investing seminar, my colleague Ian Wyatt polled our audience of over 2,000 investors. He asked a simple question: Do you own shares of "Big Oil" companies like ExxonMobil (NYSE: XOM) and Chevron (NYSE: CVX)?
The response was just about what we expected: 38% of our attendees say that they currently own shares of the big, fully integrated oil companies.
And that makes sense. The long-term track record of big oil companies has been quite good. For example, over the last decade, Chevron and Exxon have both outperformed the S&P 500 index by a healthy margin (see chart below).
But times have changed. And big oil stocks aren't strong performers anymore.
That's because the big oil companies focus on diverse and international exposure to oil and gas. While many of them are headquartered in the U.S. and have domestic operations, they are really global companies.
And that means they are missing out on the biggest growth story in the energy sector in decades.
As America strives for energy independence by 2020, U.S. oil production has reached its highest level in decades. The number of active U.S. oil rigs has nearly doubled since 2009 and is flirting with topping 2,000 for the first time since the mid-1980s. This year, the U.S. is projected to produce more barrels of oil than at any point since the early 1990s.
Over the last eight months, in fact, America has actually produced more petroleum than Saudi Arabia or Russia – traditionally the top two oil producers in the world.
Many oil and natural gas companies are taking advantage of America's energy renaissance. But the big oil companies are largely missing out.
Multinational oil companies with global footprints have actually seen their U.S. profits decline in recent years. Royal Dutch Shell (NYSE: RDS-B) is selling many of its U.S. shale properties after profits came in $2.07 billion less than expected in the second quarter. Exxon's (NYSE: XOM) 2010 purchase of U.S. shale-gas specialist XTO Energy has done little to help its bottom line, with the company's production declining each of the last eight quarters.
Most big oil companies are just too large and too diversified to fully capitalize on America's energy boom. Many of them got in too late to the U.S. shale boom, after smaller energy companies has snatched up most of the prime shale rock. Others, like Exxon and Shell, spent billions on over-priced acquisitions and haven't yet seen a return on their investment.
This chart shows how little exposure big oil companies have to America's largest shale plays: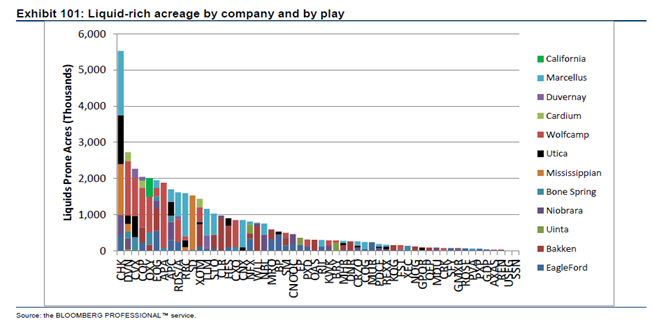 Aside from Chevron (NYSE: CVX), most of the big boys are pretty low on the totem pole in their number of liquid-rich crude oil acres. Neither Royal Dutch Shell, Exxon nor BP (NYSE: BP) crack the top eight, each with only a third or less of the liquid-rich acreage of Chesapeake Energy (NYSE: CHK) – a company with a modest $17 billion market cap.
When you consider the global scale of big oil companies, 1.5 million acres of U.S. shale property isn't a ton. In the big picture, Exxon, Royal Dutch, BP and others aren't that levered to the U.S. onshore boom.
That's just one of the reasons that big oil stocks have lagged the S&P 500 index for the last couple years. In the last year alone, the S&P 500 is up 15%, while shares of Chevron and Exxon are flat.
If you're looking to capitalize on America's push for energy independence, you're better off investing in smaller exploration and production companies whose success is heavily tied to the country's shale oil and natural gas revolution.
Those are the types of investment opportunities my colleagues Ian Wyatt and Tyler Laundon explore regularly in their Top Stock Insights newsletter. Lately, they've been on the lookout for U.S. oil fields that are yielding immediate returns for investors – profit plays that give readers a chance to cash in on U.S. energy independence.
If you own shares of big oil companies, now is time to think about selling out. I recommend you consider some of the U.S. energy stocks that have a huge stake in America's energy renaissance. To learn more about this opportunity, just click here now.