Gold stocks are not a place investors typically look for high dividend
yields. Only a handful of them even yield more than 10-year U.S. Treasury
bonds, which at 2.2% are yielding near 30-year lows. No gold stock
currently offers new investors even a 5% yield, in fact.
But that could soon change. A number of gold companies, some of which
didn't even offer a dividend until recently, have been increasing their
dividends at a rapid rate.
The rising price of gold likely has a lot to do with it. Despite a recent
pullback, gold prices are up more than 16% over the last year and 50%
over the last two years. As a result, companies that mine the precious
metal are prospering.
Gold miners are becoming increasingly flush with cash, and are passing on
some of those extra earnings to shareholders.
With that in mind, here are three gold stocks that are offering some of
the most generous yields in a sector usually not known for its
dividends: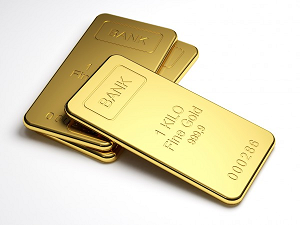 Gold Fields (NYSE:
GFI)
Market Cap: $9.76 billion
Share Price: $13.59
Annual Dividends Per Share: $0.61
Dividend Yield: 4.5%
It hasn't been the best month for Gold Fields' stock. But at 4.5%, the
South African gold miner boasts what is far and away the highest dividend
yield of any gold stock.
The company has eight mining operations spread across South Africa,
Ghana, Australia and Peru. With 3.5 million gold equivalent ounces per
year, Gold Fields is one of the largest unhedged gold producers in the
world. And the company is growing rapidly.
In its last fiscal quarter, Gold Fields reported earnings of $336
million, up from $293 million the previous quarter and $106 million in
the same quarter a year ago. The company's 2011 net earnings of $973
million was more than six times the $153 million the company earned in
2010. Four new projects are in the works.
If Gold Fields continues to ramp up production, it could keep the
company's dividend higher than the average gold stock.

Newmont Mining Corporation (NYSE: NEM)
Market Cap: $25.36 billion
Share Price: $51.32
Annual Dividends Per Share: $1.40
Dividend Yield: 2.7%
Newmont Mining is the world's second-largest gold producer, with
operations on five continents. The company reported record operating cash
flow of $3.6 billion last year, up 13% from 2010. And the company is
distributing more and more of its excess cash to its shareholders. The
$494 million in dividends Newmont paid its investors last year was double
the amount it paid in 2010. The company's annual dividend has grown from
$0.80 per share last summer to $1.40 currently.
Last April, Newmont announced that it would continue to raise its
dividends as long as gold prices stayed high.