iShares Silver Trust (NYSE: SLV) slipped 5% Wednesday afternoon on higher than usual volume. The selling wasn't a total shock, but the magnitude was unexpected.
Over the past several weeks, we have looked at this chart of silver. And as we can see from the chart, silver was clearly up against a strong resistance area.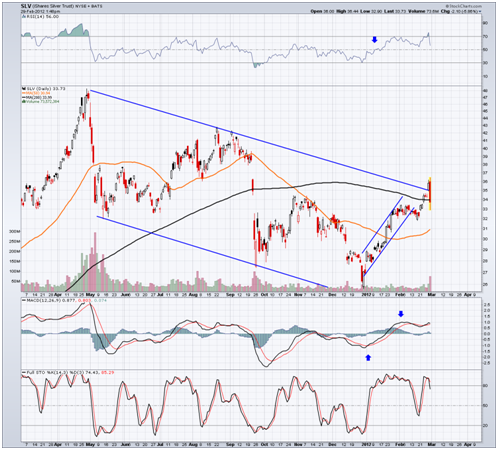 Normally, a stock would hit that resistance area and take a step back to the tune of 2%-4%. Silver started the day about 2% lower, but selling pressure escalated.
By midday silver was down 7% on some rather high volume. We were bullish on silver going into Wednesday's session. And honestly, everything in the chart said last week was a great base for silver and to stay long and buy dips.
The decline of silver clearly caught me by surprise. It is quite rare to see that large of a drop, in that short of a time span and on virtually no critical news.
Last week I instructed my TradeMaster Daily Stock Alerts subscribers to purchase ProShares Ultra Silver (ETF) (NYSEARCA:AGQ) at $61.76, which has since climbed to trade around $64. I am keeping an eye on this position as silver continues to slip, but as I said, I intend to stay long and buy dips.
Good Investing,
Jason Cimpl
Editor
TradeMaster Daily Stock Alerts